Lullabies for Suffering: Tales of Addiction Horror has been nominated for a Shirley Jackson Award! Yay! I'm thrilled, honored, surprised, and maybe most of all invigorated to keep supporting and creating works that take readers to places only horror and the dark fantastic can.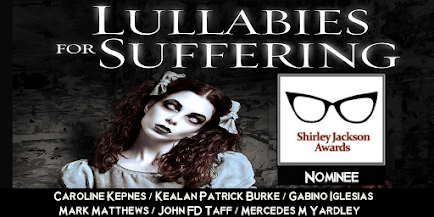 I was nominated as editor, but share this award with John FD Taff, Kealan Patrick Burke, Mercedes M Yardley, Gabino Iglesias, and Caroline Kepnes 
who all gave a piece of their heart for this project.
Here are the rest of the Shirley Jackson Award Nominees.
"The Shirley Jackson Awards are for outstanding achievement in the literature of psychological suspense, horror, and the dark fantastic... voted upon by a jury of professional writers, editors, critics, and academics."
Lullabies for Suffering on Amazon