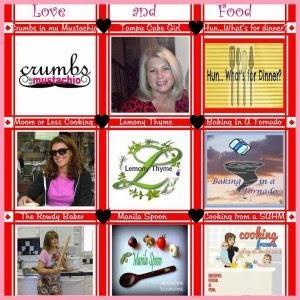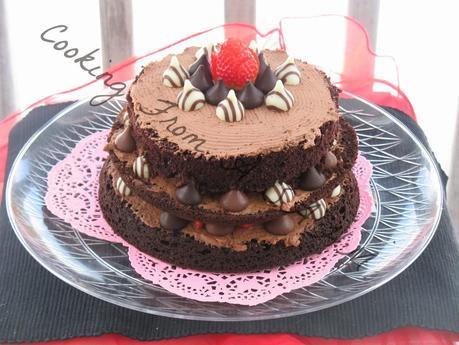 Hello Everyone,
If you've been paying attention since Christmas you know that I'm working with other bloggers to bring you a different theme each month. This month of February, it was my turn to pick a theme. So I decided upon Love and Food.  This was a fun month as were the others.
So today I bring you my "Sex and Candy" Cake......Back in the 90's there was this song " Sex and Candy" by Marcy's Playground.  When it came on the radio I thought I was "all that and more" because I heard a song with the word sex in it. LOL  Now that I'm older its not a big deal but still LOL. Awhile back this song came on the radio and I decided I was going to make a Sex and Candy cake.  Now don't get offended lol :-) However I wanted to make this cake with all the qualities of a relationship. I have hershey kisses and hugs.....Plus strawberries and chocolate. I figured it makes a great combo :-) Put this all together and you have my Sex and Candy cake.  :-) This has become one of the best and prettiest things I have made. I'm so proud of this cake.
*With this cake I used a box cake mix because I haven't found a chocolate cake mix I really like...and it was easy. You can make cake from scratch if you wish*
Cake Rounds:
1 Box of Cake mix
2 Round Cake Pans
Mix cake mix as directed and bake till done in a round cake pan. PLEASE make sure to heavily grease the pans as you will have to flip them out of the pan. When they are cool release them from the pan and take ONE of the chocolate cakes and slice it across. So you'll have to cakes.
Now, the filling is a Faux moouse from my dear friend Amy at Crumbs in my Mustachio. Here is the link to the faux mousse cake filling. Faux Chocolate Mousse Cake Filling Put it in the fridge till your ready to use it.
Now you'll want to assemble the cake.
3 Bags of hershey kisses:
Hugs
Milk chocolate AND Dark Chocolate
Strawberries to dice and one strawberry to make a rose.
 1 C. Diced Strawberries
Okay, now on facebook I had seen a strawberry rose and thought it'd be perfect on my cake. So I decided to make one. I'm posting the you tube video I used when making one. It'll work better then me showing you. LOL
Here is the you tube video on how to make a strawberry rose It's easy :-)
Strawberry Rose.
Okay once you have your strawberry done stick a toothpick on the bottom of it. Set it aside.
Take one of your cakes and lay it on the plate. Take your chocolate mousse and spread some of it on the layer. Next alternate your hershey kisses and hugs around the edge of it.  Take your diced strawberries and put it in the middle. Next take your second layer and set it on top of the hershey kisses gently. The hershey kisses will help hold that layer up. Make sure to add more if you need it. Now on the second layer take more chocolate mousse and spread it. Add your strawberries and hershey kisses. Put the final layer on top. Add your chocolate mousse gently to the top of the cake. In the middle stick your strawberry rose. Around the rose place hershey kisses.
There you have it.....Sex and Candy Cake.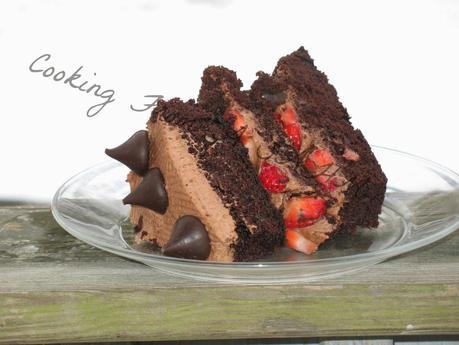 Limoncello Cream Dream Cake by Crumbs in my Mustachio
Nutella Frangelico Love Cheesecake by Tampa Cake Girl
Cherry Blossom Chocolates by Hun, What's for Dinner?
Cookie Cutter Chocolate Bark by Lemony Thyme
Chocolate Pound Cake with a Chocolate Glaze by Moore or Less Cooking Blog
Dark Chocolate Raspberry Fudge by Baking in a Tornado
Chocolate Covered Cherry Pie by The Rowdy Baker