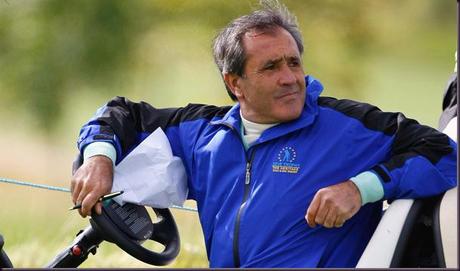 I always enjoyed watching Severiano Ballesteros playing golf. Learning to play on the beaches near his home, Seve burst onto the golfing scene and his daring shot making and sheer love of the game was infectious. He was true "box office" being universally popular and successful, winning the British Open 3 times and the Masters twice. In the past three years he battled a brain tumour, unfortunately he lost that battle last weekend, he was just 54.
Seve was born on 9th April 1957 in Padron, Spain at 12.35 hrs. His fiery Aries Sun sat in the 10th house in close conjunction to Venus. His Moon we find in  proud Leo in the first house and his ascendant in emotional Cancer. The Sun/Venus and Moon are part of a talented Kite formation, the other feature of note is a stressed Neptune/Mercury/Uranus fixed t-square.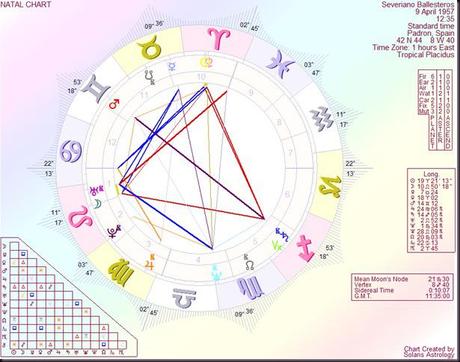 Forming the axis of the kite is a Mars and Saturn opposition, Mars in Gemini in the 11th house and Saturn in the 5th House in Sagittarius. Mars in Gemini is someone who was always on the go, restless and forever living on nervous energy. He would love to pit his wits against someone else in competition, yet here was somebody who thrived in team play too, especially when he would be leading the team. Saturn opposite sits in the house of games and competition. He would be driven to be someone special in his chosen field taking his responsibilities seriously, driven by feeling the weight of responsibility of his ambitions on his shoulders. Mars opposite Saturn is often representative of the the one who takes on everything and everyone on his own. This Saturn would be the dominant part of this talented kite and would give him the determination to reach the top of the golfing world.
Saturn trines out to the Moon and Sun Venus making a grand fire trine. With the Moon in the first house in a very self sufficient position and the Aries Sun in the 10th giving huge incentive to move forward, to be the best (Aries) in his profession (10th house) and the serious aspect of Saturn in his sports endeavours (5th house), here was a powerful source of incentive he could always tap into and rely on. What made Seve unique in his day, was not only the pioneering spirit of this grand fire trine but also his invention and devil may care attitude on the course. Alongside the Moon in the first house in conjunction was Uranus in Leo. Uranus in the first is the rebel, the one who wants to be different and compared to all who went before him in the golfing world in the 70's and 80's, Seve was certainly that – a breath of fresh air. Uranus conjunct the Moon craves excitement and loves to take risks. Uranus is at the point of a mutable t-square with Neptune opposite Mercury completing the formation. Neptune opposing Mercury is very imaginative and and in mutable signs adaptable. Seve used his imagination and adapted his game to any situation, being able to conjure shots out of the most impossible situations. One always remembers him getting out of a car park on the way to one of his British Open victories – genius at work and Seve was blessed with daring, a showman's attitude and fiery passion.
Seve would have seen golf as a way of making the finances that he craved; Pluto in the 2nd house of personal finances almost demanded that he was constantly adding to his wealth, as Scorpio is on the cusp of the 5th house we know that money making desire would come through competition and sport (5th house). After his playing career, he continued to construct golf courses with Saturn in the 5th as the builder, as well as administer his own golf tournaments, among them the Seve challenge in Spain. It was very ironic that the Spanish Open was being contested as he passed away this weekend. Jupiter in the 3rd in Virgo gave him an analytical mind and a modesty that belied the passion that he showed in competition. He was always someone who thought of others ahead of himself.
Seve had 6 planets in fire signs and was the embodiment of a fire individual. Flames need fuel to keep burning brightly and as his career suffered with constant back complaints, so Seve's flame dimmed as there was not the fuel of competition to keep him at the top. In the last years of his life Seve battled against a brain tumour. Brain tumours are of special interest to myself, as my mother passed away with one too. Mercury represents the brain in Astrology and Seve's Mercury is part of that mutable t-square opposite to Mercury and square to Uranus. You can see the brain function both inspired and disrupted by both these outer planets. The outer planets I find are both blessed and destructive, being outer planets they are beyond our control and when they are activated by transits or progressions then they can bring on events in our lives that shape our very existence; they represent double edged swords of good and tough experiences. My mother had a natal Uranus square Mercury too, and looking at cases of people who have suffered brain tumours I have noticed that commonly you find that Mercury is being affected by square or trine to disruptive Uranus or destructive Pluto and/or Uranus is sitting in the 3rd house of communication and the mind.
On the day that Seve was first diagnosed with his tumour (6th Oct 08 in Madrid after he collapsed at the airport), transiting Saturn was square the Mars/Saturn opposition, illuminating the whole natal kite and weakening the whole persona. Transiting Pluto was trine it's natal position signifying a transformational happening. By Solar Arc, the Mars/Saturn opposition had moved round to conjunct and oppose Seve's natal Uranus, thus activating that mutable t-square and the critical Mercury/Uranus square affecting his mind. At the same time, the Venus and Sun conjunction in Aries was being opposed by Solar Arc Pluto and his natal ascendant was sextile to Solar Arc Uranus. Aquarius sits on the 8th house cusp of change, these events would change Seve's life forever. This would be a difficult and transformational time for Seve. Three years on and on the day that he passed away, transiting Uranus had moved around to conjunct his Midheaven and trine his natal Uranus activating the mutable t-square again and transiting Pluto was almost exactly trine his natal Mercury affecting him on a transformational level for one last time. That day there were also a lot of pleasant transits on Seve's chart, transiting Venus/Mercury conjunct Venus Sun and transiting Neptune trine Neptune and opposite Pluto which suggests that he lost control of his life however at the same time it relieved all the pain and suffering that he had endured.