A little something I popped on for New Year's Eve was this shimmering body sparkle oil from Sephora.
This was a gift from a family friend over Christmas, which they picked up on a recent trip over the pond and its perfect for adding a little something extra to your look on a night out!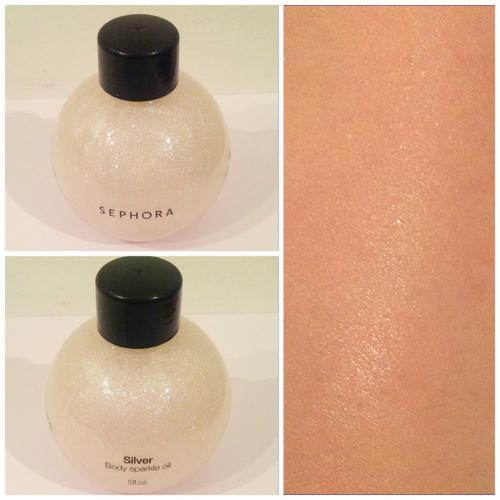 As you can see, I have the Silver version, but I believe they do other 'shades' such as gold. Unfortunately, you can't see these on the Sephora website, so I think you can only get these in store - next time you happen to pass a Sephora on holiday maybe?
The oil factor on this is not an issue - it sinks in super quickly and leaves your skin nicely moisturised. 
I'm, admittedly, a bit rubbish at taking swatch shots. I can never get the light right, the angle looks funny, my skin is blotchy etc. However, I attempted above in order to show how lovely and subtle the shimmer is.
As you know, I'm picky when it comes to sparkle (on my skin that is, no aversion to any kind of sparkly jewelry here!) but this body sparkle oil is beautiful. It certainly perked up my New Years look!