In less than a month to Hari Raya Aidilfitri, have you thought of what cookies to bake for the coming festive season? In celebration of SCS butter's 110 anniversary, SCS brings to all a delicious Ramadan with an exclusive Semperit cookies recipe guide. Semperit are commonly served during Muslim festival. These cookies are easy to prepare and it capture the hearts of many because it is soft tenderness that melts smoothly in your mouth. It is made using simple ingredient of butter, flour, sugar and eggs.
SCS butter has created your favorite Semperit cookies that now come with a twist. I am going to share the Semperit Orange Surprise cookies recipe that is created by SCS butter.
Here it goes!
Ingredients:
200 grams SCS Salted Pure Creamery Butter
85 grams Icing Sugar
35 grams Egg
6 tsp Orange Juice Concentrate
20gm Orange Zest
200 grams Plain Flour
70 grams Corn Flour
70 grams Custard powder
40 grams Orange Coloured Sugar
40 grams Red Coloured Sugar
Method:
Cream SCS Salted Pure Creamery Butter and icing sugar until fluffy and then add in egg, orange juice and orange zest.
Fold in the flours and custard powder.
Place the dough in the piping bag.
Pipe into shape of 8. Sprinkle with coloured sugars.
Bake at 150°C for 18 minutes.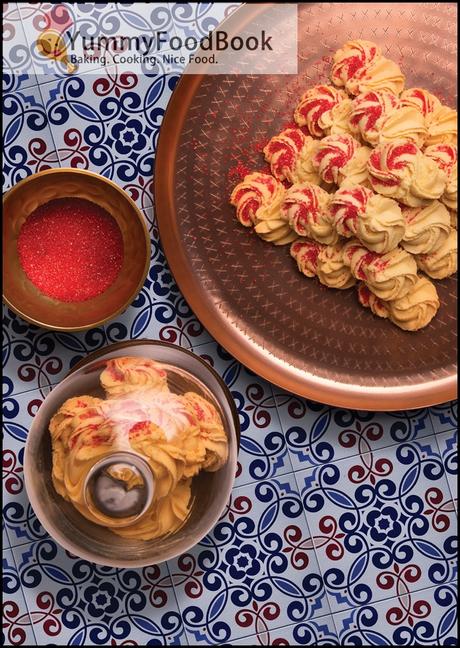 * Photo By SCS Butter
Even better, in conjunction with SCS's 110th anniversary, consumers may stand a chance to win access to baking classes by highly popular Chef Siti Mastura or Celebrity Blogger Fiona Lau, to further perfect their baking skills! To participate in the lucky draw, customers simply need to purchase three blocks of SCS Butter at a special price of $11.95 (Usual Price: $5.15 per block) and send the receipt along with the entry form (downloadable at www.scsdairy.com) via mail or email by 17 July 2015. A limited 110 slots are available to be won!
Happy Baking Everyone!