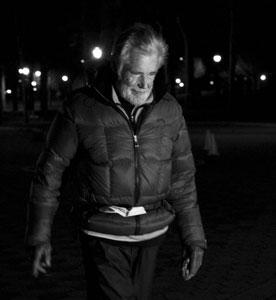 Don Winkley Photo by Prabhakar Street
The Self-Transcendence 6 & 10 Day Races drew to a close yesterday at noon in Flushing Meadow Park with Eoin Keith and Dipali Cunningham winning the 6 day race and Ashprihanal Aalto and Kaneenika Janakova taking top spots in the 10 day race.
Having a goal of 800 miles, Aalto surpassed his target running 96 miles on the final day of the event. Conditions were cool and windy this year with a few days of rain thrown in.
Eoin Keith in his first 6 day race reached his goal of 500 miles and was happy with his experience, an experience he shared with his wife Helen who crewed for him.
Kaneenika Janakova set a new pb in the 10 day, extending the Slovakian National records she already holds at this distance.
Dipali Cunningham, second overall, won the womens race to maintain her unbeaten history – 17 successive victories in the 6 day race – an unparalelled record in multiday or ultrarunning.
Pos Name Nat. Miles
Men 6 Day Race
1 Eoin Keith IRL 500
2 Galya Balatskyy UKR 453
3 John Geesler USA 422
Women 6 Day Race
1 Dipali Cunningham USA 475
2 Vera Kalishmanova RUS 343
3 Larisa Psyukalova RUS 325
Men 10 Day Race
1 Ashprihanal Aalto FIN 833
2 Sarvagata Ukrainskyi UKR 708
3 Nirbhasa Magee IRL 702
Women 10 Day Rac
1 Kaneenika Janakova SLO 727
2 Ilvaka Nemcova CZR 663
3 Pati Ibinova RUS 618
Congratulations to all the runners and the race organisers for putting on an amazing event. Thanks to all the helpers and especially to those making the extra effort to keep the internet updated including Utpal and Mark Dorion and the people who visited and posted on the Ultralist.
Lots of stories throughout the race were shared by Utpal Marshall who made a report everyday from the race on his blog, Perfection-Journey.
Full race results and photos are available on the race website, 6 day and 10 day races
All this inspiration is due to the vision of Sri Chinmoy who has provided the world with an opportunity to excel and transcend their perceived limits since his arrival in the West in 1964 and especially since 1977 when he formed the Sri Chinmoy Marathon Team to organize these events which culminate in the next event, the Self-Transcendence 3100 mile race which starts June 15th 2014 and will finish 52 days later on August 6th. Checkout the race website for details and updates.
From Multidays.com, post Self-Transcendence 6 & 10 Day Races 2014 – Final Results