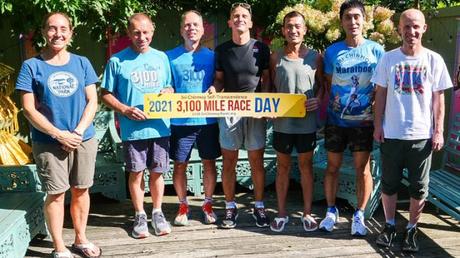 Self-Transcendence 3100 Mile Race 2021 returned to New York this morning, the 134th multiday the SCMT has hosted, with its customary 6:00 am start in Queens. Despite the traveling difficulties created by the pandemic, a quality field of seven runners has been assembled to attempt the world's longest annual footrace.
Race Director Rupantar LaRusso said in the pre-race briefing that the race would continue to take place at this time of the year to avoid the increasingly hot temperatures during July and August. The 2020 race took place in Salzburg starting September 13th.
The course is .5488 mile loop around a sports field, a playground, and Thomas Edison High school in Jamaica, Queens. The surface is concrete sidewalk.
The 2020 race winner Andrea Marcato returns along with another former winner Vasu Duzhiy, sole woman Harita Davies returns along with Multiple finishers triathlete Stutisheel Lebedyev and Ananda Lahari Zuscin.
This year sees two new debutants at the 3100, Lo Wei-Ming from Taiwan (ROC) having run 720km for 6 days and Takasumi Senoo from Japan. Takasumi also has lots of experience of long multidays including last year's 5000km race in Athens, and La Grande Course - France Footrace Tour 2019, 2677km over 43 stages. He ran the Run Across America II in 2004 and the 2008 Deutschlandlauf among other stage races.
After 14 hours this is how the scoreboard looks.