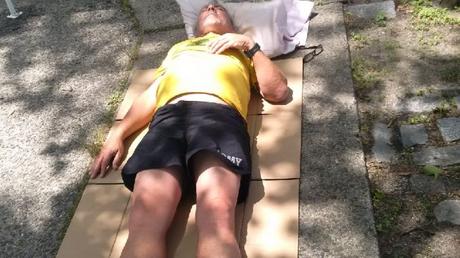 Self-Transcendence 3100 Mile Race 2017 - Daily Updates - Day 4
?Ray K was my houseguest as we were not required for "security " duties.
?About 1 am we reached the apartment after dismantling the race setup.
Up at 4:30am and back to race to set up once again. This is getting much easier as we all? are gaining in confidence.
All set for the off, bang on 6 am. I have lap counters till 8 am then I will do a stint till around 10:30?
Arpan arrives and with Ray we escape for a coffee at Panorama cafe (about 10 mins walk away). Great coffee and a slice of pumpkin pie.
Chat "ultra" news and PB's. Ray wins hands down for marathon, me for 24 hours and Arpan for 6 days.
It's back to help on the food and drink station for me and a nap for Ray.
Most of the afternoon spent lap recording.
It's fine in the shade and 86F with a cooling breeze. I have 5 boards Smarana, Nirbhasa, Andrey, Nidhruvi, and Harita.
Ray heads off "up state", for family business, but hopes to be back Sat 6 am.
Lap recorders thin on the ground. So I did a 5 hour stint.
Now 7:30 pm and back to apartment for shower, then nap till 11pm then back to race for dismantling duties.
Race Links
Race website: Self-Transcendence 3100 Mile Race
Utpal Marshall's Perfection-Journey Day 42: A Miracle
Yolanda Holder Facebook
Race photos 2017