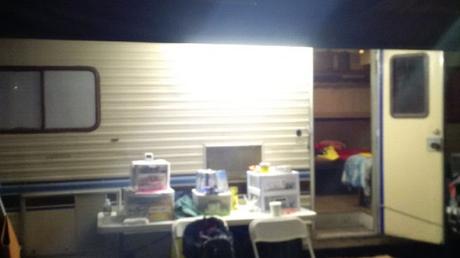 Self-Transcendence 3100 Mile Race 2017
Daily Updates - Day 3 - Alan Young
Up at 4:15 am with Ray K, who came back late last night and slept in his car. We help with heavy work setting up, as it is "opposite" day where the campervans have to be moved to the other side of the road to allow the street cleaners access. The food and drinks man comes at 5:30 and likes to do things his way so Ray and I have a spare 15 mins. So I grab a short nap (caught on camera by Ray for all on facebook to see).
Again at exactly 6 am, the 10 are off, anti-clockwise today. It is raining a little, but clears in 40 mins to give way to clear skies and sunshine, and all is well.
Yolanda is eating and drinking well, and seems to have regained her composure and broad smile.
At 10 am the street cleaners pass and we now transfer the campervans back across the road.
Do a short spell of lap recording and then give Nirbhasa a calf and quads massage, and do some work on his shoe insoles.
?Grab a quick lunch and back to some lap recording. Although people have put their name down for stints throughout the day, not all turn up and some are delayed by New York traffic.
Then helping with some electrical work as we aim to improve the lighting around the campervans.
Temp crept up to 31C giving a few their first heat problems. But humidity was low.
Update the leader board.
At the moment we are still trying to resolve the web cam problems.
?So today the afternoon disappears, and will have to wait and see if I get nap before the mid night putting away the race infrastructure.
?Get a great 3 hour sleep back in the "basement". Shower and shave. Again that 7 mins walk back and tuck into my evening meal (lovely nut roast burgers topped off with ice cream)
No "security duty", so after race shutdown should get another 3 hours quality sleep.
Self-Transcendence 3100 Mile Race 2017 - Latest results