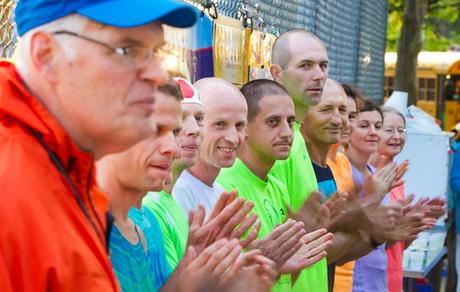 The field for the Self-Transcendence 3100 Mile Race 2017 has been announced.
This year Austrian Smarana Puntigam returns after a 9 year hiatus having run the race seven years in a row.
Scotlands William Sichel also returns for a second adventure after completing the distance in 2014. William will be hoping to add a bucketful of age group records to his amazing tally of over 160 Scottish, UK, and age-group records.
American Yolanda Holder is taking part in the race for the first time and is very excited about the prospect. In 2015 she set a Guiness record of 340 consecutive days of walking 26.2 miles and in 2016 finished second in the Self-Transcendence 10 day race walking 622 miles, a new US age group record.
Vasu Duzhiy will take part for the 6th time and having won the race in 2013 knows what the race is about. Ireland's Nirbhasa Magee also returns after finishing the race in 2015.
Having finished the event in 2016 Kaneenika Janakova will no doubt be trying to improve upon her time. Harita Davies from New Zealand will also be taking part for the first time after having run the 10 day and the 6 day races in New York.

The Runners
Kaneenika Janakova (F)
Nidhruvi Zimmermann (F)
Yolanda Holder (F)
Harita Davies (F)
Vasu Duzhiy
Smarana Puntigam
William Sichel
Ananda-Lahari Zuskin
Nirbhasa Magee
Andrey Andreev
Sergey Kuzmin
The 21st edition of the invitational event which first took place in 1996 as the 2,700 mile race and was followed in 1997 by the upgrade by the race founder, Sri Chinmoy, - the 3100. The runners have 52 days to complete the distance which averages out at just under 60 miles a day. The course is a .54 mile loop around Thomas Edison High School in Queens, New York.
Runners begin each day at 6:00 am and run until 24:00 when the course closes and the runners take rest before returning to begin again.
Runners are provided with food and drink and are able to take breaks in race vans.
The race begins June 18th.
Race website: Sri Chinmoy Races