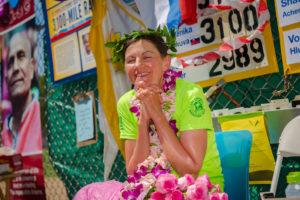 Final update by Sahishnu from the Sri Chinmoy Races website:
9 August – Day 52: End of the Road
Kaneenika Janakova fulfilled a long-held dream to finish the 3100 Mile race today, crossing the line in 51 days+07:31:07. A smile etched on her face, the 46 year old Slovakian managed to average 60.416 miles per day /97.231 km. She became the sixth woman to finish 3100 miles.
Surasa Mairer continued on to reach 3021.69 miles before midnight brought  endgame to the race. The former champ and still record holder was as gracious as ever.
Baladev Pavol Saraz made it to 2811.5 miles, including running a 3:33 lap in a beautiful clear evening.
Sopan Tsekov walked for several weeks until he reached 2700 miles, injuries forcing him to dawn the cloak of pedestrian. He smiled and said walking was much harder than running.
Ananda-Lahari Zuscin held it together until he finished at midnight with 2608.99 miles.
Stutisheel Lebedyev was still grateful and thankful for all the support he received, enroute to 2604.05 miles.
Thanks for following the longest race for the last 20 years,folks. We hope to be back next June for Chapter 21. Until then, may you have a smile on your face at least once a day.!
Pos Name Country Time
1 Yuri Trostenyuk UKR 46 days +01:10:25
2 Ashprihanal Aalto FIN 46 days + 02:54:22
3 Atmavir Petr Spacil CZR 47 days+11:32:00
4 Vasu Duzhiy RUS 48 days+03:54:11
5 Kaneenika Janakova SVK 51 days+07:31:07
6 Surasa Mairer AUT 3021.6
7 Baladev Pavol Saraz SVK 2811.5
8 Sopan Tsekov BUL 2700
9 Ananda-Lahari Zuscin SVK 2608.9
10 Stutisheel Lebedyev UKR 2604
11 Shamita Achenbach-Konig AUT 1139.3
12 Volodymyr Hlushchuk UKR 919.2 miles
Resources
Race website: 3100.srichinmoyraces.org
Daily Stories: Perfection Journey
Photos: Prabhakar
Videos: 3100 Mile Race 2016
Blogs by current participants: Stutisheel Lebedyev and Sopan Tsekov