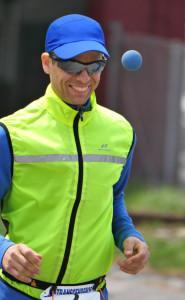 Race leader Atmavir Spacil Photo by Utpal Marshall
After three days at the Self-Transcendence 10 Day Race Sarah Barnett leads Shamita Achenbach-Konig closely followed by Pati Ibinova who has a little elbow room over New Zealander Harita Davies in fourth place.
Atmavir Spacil continues to develop some space over Baladev despite having stomach problems yesterday. Ushika Muckenhumer covered 100 km to lift him into third place.
The Self-Transcendence 6 day race starts in about an hours time and Dipali Cunningham returns to the 18th edition of the race which she has won every year – an unparalleled achievement in modern ultrarunning.
In the mens field, Galya Balatskyy and John Geesler also return to Flushing Meadow Corona Park with experience and capacity to make this a very interesting race.
Full results at the link below.
Pos Name Surname Nat 48 Hours
10 Day Women
1 Sarah Barnett AUS 207
2 Shamita Achenbach-Konig AUT 203
3 Pati Ibinova RUS 202
10 Day Men
1 Atmavir Spacil CZE 230
2 Baladev Saraz SVK 215
3 Ushika Muckenhumer AUT 202
Resources
Race website: Self-Transcendence 10 Day Race 2015
Gallery: Six and Ten Day Race 2015
Perfection Journey - Daily interviews,stories and photos.