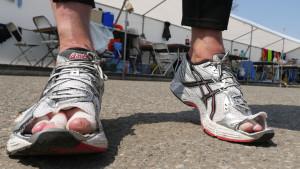 Customised shoes and taped toes. Photo by Utpal Marshall
Results from day 2 of the Self-Transcendence 10 Day Race 2015 are on the race website.
Heavy rain and winds at the end of the first day combined with high tide flooded the lake which slowed the runners efforts. Current weather forecast is more rain later today but then 4-5 days of sunshine followed by a chance of showers over the last two days.
3100 runners dominate the field three in the first four places in the mens race with Atmavir Spacil leading the race with 166 miles after two days. Georgs Jermolajevs in third place, won the inaugural Self-Transcendence 2700 mile race in 1996 which was the immediate precursor to the 3100 mile race. Utpal Marshall talks to Georgs on his blog, Perfection-Journey (see link below).
Ananda-Lahari Zuscin had a 73 mile second day to lift him into fourth place.
The womens event is developing into an exciting contest despite it being early days with last year's women's winner in the 3100, Sarah Barnett, moving into third place, only two miles behind the leader Pati Ibinova who last year ran 618 miles for third spot.
Race website: Self-Transcendence 10 Day Race 2015
Perfection Journey - Daily interviews, stories and photos.
Pos Name Surname Nat 48 Hours
10 Day Women
1 Pati Ibinova RUS 143
2 Shamita Achenbach-Konig AUT 141
3 Sarah Barnett AUS 140
10 Day Men
1 Atmavir Spacil CZE 166
2 Baladev Saraz SVK 149
3 Georgs Jermolajevs LAT 144