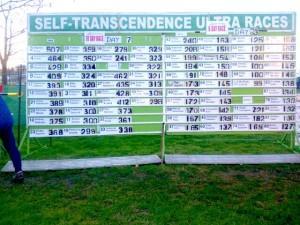 Self-Transcendence 10 and 6 Day Races 2013 Update 162 hours. Photo by Alan Young
Weather conditions seem to have stabilised for the rest of the race according to the weather forecast with perhaps just a chance of a shower tonight to dampen spirits. Reading Utpal Marshalls blog, Perfection-Journey, I am always surprised by how upbeat people are even when they are clearly not performing at their best. In todays post, My Main Goal Utpal talks to Ken Ward, a 55 year old ultrarunner from Oregon, Sylvie Boisvert from Quebec, Canada and the Executive Director of the World Harmony Run, Australian Salil Wilson.
Martin Fryer has been averaging 77 miles a day for the first 6 days and sees him about 40 miles clear of Ananda-Lahari himself averaging over 69 miles a day excellent training for the 3100, should he be preparing for that race. Kaneenika Janakova also has a cushion over second placed Ilvaka Nemcova.
In the 6 day race Phil McCarthy leads second place Rasmivan Collinson who has steadily climbed up the board with a consistent performance so far. Alex Swenson is in third place and we will wait for the daily standings to be posted to see how things are developing.
Resources
Self-Transcendence 10 Day results available on the Sri Chinmoy Races website:
Sri Chinmoy 10 and 6 Day Race 2013 Photo Gallery
Utpal Marshall's Perfection-Journey Daily stories and photos include these posts:
April 22: Dance of Life
April 21: Towards Our Own Perfection
April 20: Happiness Is The Key Word
April 19: New Creation
April 18: We Are In It Together
From Multidays.com, post Self-Transcendence 10 and 6 Day Races 2013 Update 162 hours
Self-Transcendence 10 and 6 Day Races 2013 Update 162 hours Multidays.com - Multiday and Ultrarunning News