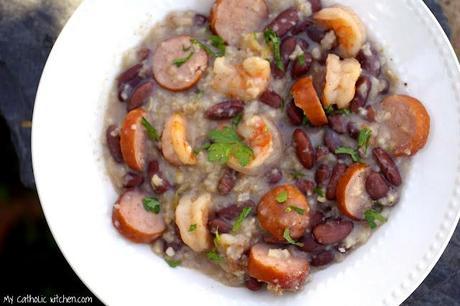 Ella Brennan is known for her hospitality and warmth. Well after all she is a southerner. 
She is Gourmet Game Changer #34.
Brennan is the Matriarch of over 11 food establishments across the country. Most notably, the Commanders Palace in New Orleans.
She is responsible for the Haute Creole craze of the early seventies. Although Brennan was never a chef, she has great food sense and knows what she likes.
She learned the restaurant business starting at about thirteen in her brothers restaurant.This is where she started writing menus, soon she was training waiters and hiring cooks. Paul Prudhomme and Emeril Lagasse both worked for her. 
Ella Brennan is the winner of many awards, such as the very prestigious  James Beard award.
I decided to make The Commanders Palace Seafood Jambalaya.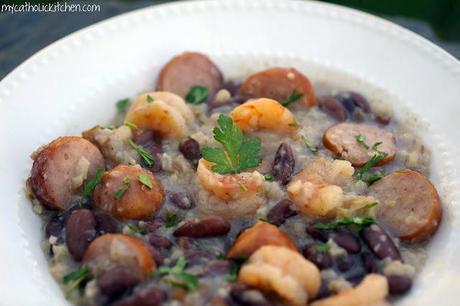 You can get the recipe here. I made a few changes. The origional recipe called for oysters. I am not a fan so I used red beans instead. I also used Risoto rice instead of the traditional. It was nice and creamy like a ristoto should be, but it really didnt taste like authentic Jambalaya.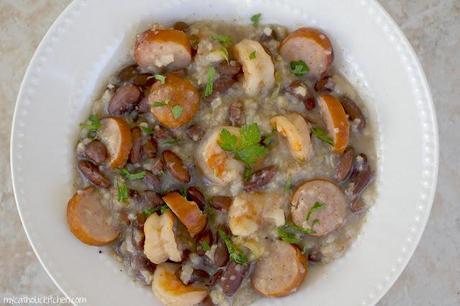 The following bloggers are also featuring recipes from Ella Brennan.  Please pay them a visit and see what they have to bring to the table.
Val - 
More Than Burnt Toast
, Taryn - 
Have Kitchen Will Feed,
 Susan -
 The Spice Garden
, Heather -
 girlichef
, Miranda - 
Mangoes and Chutney
, Jeanette - 
Healthy Living
Mary - 
One Perfect Bite
, Kathleen -
 Bake Away with Me, 
Sue - 
The View from Great Island
 Barbara - 
Movable Feasts
 , Linda A -
 There and Back Again, 
Nancy - 
Picadillo
Mireya - 
My Healthy Eating Habits,
 Veronica - 
My Catholic Kitchen
Annie - 
Most Lovely Things
, Claudia - 
Journey of an Italian Cook
, Alyce - 
More Time at the Table
, Amrita - 
Beetles Kitchen Escapades
Please join us next week when we feature Delia Smith.
Peace be with you,Veronica