Bloomsbury Publishing have sent me a copy of "Eat & Run" by Scott Jurek with Steve Friedman to review, and the good news for you  is that I also have another copy to give away. Simply enter a comment below to be in the draw for a copy on it's Australian release in 1st July.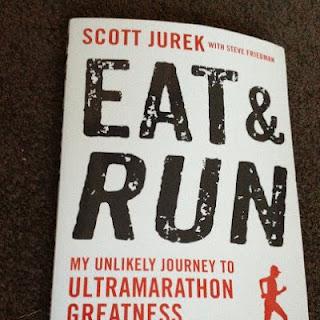 I was intrigued to see what Jurek would write to be different from the likes of Karnazes' "Ultramarathonman", "Born to run" and Ulrich's "Running on empty".  The key difference is that he has consistently competed at the top level and not only won, but set multiple records.  The book gives an interesting look into his history, and whilst it catalogues his achievements, they are almost incidental to the message from within its pages.
Clearly his has a natural talent for the sport, but it underlines the incredible determination and dedication he had to make to his training to be the very best he can.  One very interesting point he made was that he got to a stage where he was running as hard as he could but not getting any faster. So to improve his times he would need to change something else, and he explores nutrition, running form and the spiritual-psychological aspects. 
Its inspiring to read that the elite guys go through the same challenges as the rest of us mere mortals, and that to win these races you can't just be gifted, you need to be tough on many different levels.
The book has a nice mix of stories, both personal and running related, and each chapter finishes with a tasty sounding vegan recipe that makes you want to get in the kitchen and give it a try.   Most chapters also finish with a simple running tip, and given his physio training and experience, they are balanced and "fad free". 
The chapters are typically focused on a particular race or significant event in his life, and he takes the opportunity to give a little history of some of the best known races like Western States, Hardrock, the Spartathalon and Badwater.  He comes across as someone with a lot of respect for the sport, its origins and the characters who made it so. You get a better understanding of the community that exists within ultramarathons and the friendly camaraderie that exists at the top level (much the same as us middle to back of the pack competitors experience).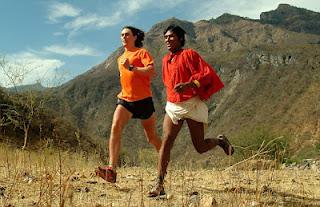 What I really liked about the book is that he has a writing style that makes for very easy reading (I read it in three sittings). He gives a different viewpoint to the events of his visit to Copper Canyon and running with the Raramuri, somewhat detached from the more poetic version you'll read in "Born to Run", and throughout the book you don't get the feeling that writing it was an ego trip in any way. I got the feeling that to write the book was part of his ultrarunning journey, and in line with the sport's ideal of sharing knowledge with fellow competitors.  He makes a great observation on this topic that basically you may as well share all you know about your training and the sport in general, as on race day it comes down to mindset and strategy.
So in summary it's a great read and one I didn't want to put down.  After you get past the first couple of chapters where the picture is painted of Ultrarunners being super humans, it settles into its stride where it will inspire the non runner to put on their trainers, and the experienced to want to do more.  He makes some compelling arguments for vegetarian and vegan diets, without coming across as some sort of new age evangelist. He simply states the benefits he has experienced from such a lifestyle, and has shown that on a vegan diet you can run 100miles or more and win.
I've come away from reading the book with a far better understanding of the sport, the elite competitors, and that Scott Jurek isn't all that different from you or I – and that is inspiring in itself.
Don't forget to leave a comment below (even if it's just "Count me in!") to be in with a chance of winning a free copy of the book when release in Australia on 1st July.
Run Happy!
Andy
"The difference between a successful person and others is not a lack of strength, nor a lack of knowledge, but rather a lack of will"
www.ultramarathonrunning.com.au