By all rights Scotch eggs should be a lot more popular than they are. Hard boiled eggs, yolks just barely firm, are wrapped in sausage meat then breaded and fried. What could be bad?
I suppose it's the frying part that holds most people back. But why professional kitchens don't whip up Scotch eggs along with the megatons of French fries and chicken fingers they pump out is a question worth asking.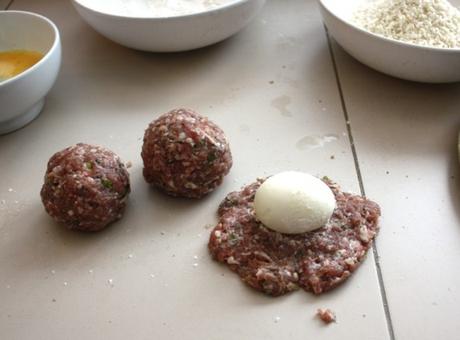 Traditionalists say Scotch eggs are best enjoyed at room temperature with just some pickles and mustard although there awfully good while still hot. The eggs shown in the serving carton were enjoyed at London's Bridge Market. The crisp fried egg balls, orange yolks still a bit drippy, were the inspiration for this SpecD rendition.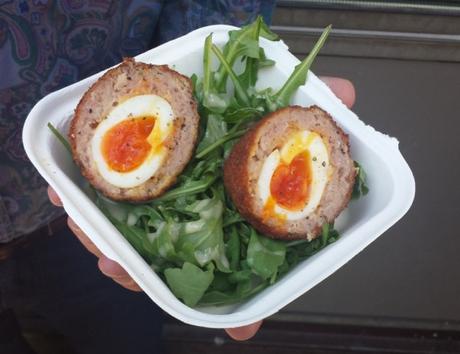 Our version's arugula salad is dressed with a mustard vinaigrette which adds a lightness to the proceedings. Panko bread crumbs provide a delicious, crisp crunch.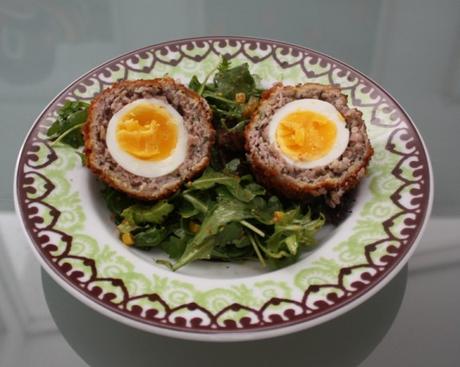 Some things to keep in mind:
- The sausage meat is easier to work with at room temperature.
- Lightly flour your hands when rolling the balls.
- Fry on medium heat, 300º, so the exterior doesn't brown to quickly for the meat to be cooked through.
- Hard boil the eggs just until done 4-5 minutes, so the yolks are still a bit runny. Tastes better that way.
SCOTCH EGGS
Recipe makes 6 eggs
1 lb. sweet Italian sausage
1 scallion, finely minced
1 teaspoon yellow mustard
1/4 teaspoon grated nutmeg
salt and pepper
2 eggs (raw)
6 hard boiled eggs
2 cups panko bread crumbs
1 cup flour
1. Place six eggs in a sauce pan and cover with water.  Bring to a boil, then reduce heat to a simmer and cook for 4 minutes. Run under cold water to stop cooking.  Let cool completely, then peel.
2. Squeeze the sausage meat out of the casings into a mixing bowl. Finely chop the scallion and add it. Add the teaspoon of mustard. Add a pinch of salt and a good grind of black pepper. Add the grated nutmeg. Stir to mix well.
3. Set up your work station:  In a small bowl whisk 2 eggs well. Put 1 cup of flour into a shallow bowl.  Put 2 cups panko into another bowl.
4. Lightly flour your hands.  Using 1/6th of the sausage, pat out the meat into a flat oval shape.  Put a peeled hard boiled egg on the sausage, then fold the meat up and around it.  Carefully mold the meat around the egg until it's evenly covered all around.
5. Roll the egg in the flour, shake off excess.  Roll in the whisked egg, then roll in the panko.  Roll it in the egg a second time, then give it another coat of panko.  Put on a sheet of waxed paper as you do it all again with the 5 other hard boiled eggs.
6. Put 3″ of cooking oil into a pot.  Heat to 300º.  Use a thermometer or when it gets hot, drop in a piece of bread.  It should sizzle right off.
7. Fry the eggs 2 or three at time, depending on the size of the pot you are using it.  Don't crowd them or the temperature of the oil will lower too quickly to cook properly.  Turn the eggs every minute or two so that they brown evenly all over. Cook for four minutes.
8. Remove the eggs from the oil and let drain on paper towels. They should sound a little hollow when you tap them. That means the shell is crisp and the meat is cooked through.
Let the Scotch Eggs cool a bit while to you make a nest of green salad:
4 cups baby arugula
1/4 c. olive oil
2 T. white wine vinegar
1 T. Dijon style or grainy mustard
salt a pepper
Whisk the oil and vinegar with the mustard and pinches of salt and pepper.  Toss with the arugula. Serve the eggs while still warm on a bed of salad.

Print This Post
Share and Enjoy