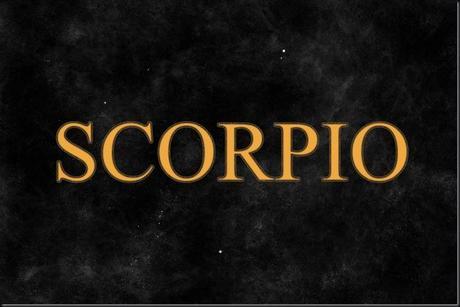 The following monthly forecast is only valid for those of you with Scorpio as your rising sign, which is probably different from your Sun sign as it is dependent of the time of your birth rather than on the date of your birth. If you do know exactly or approximately when you were born, please click on the following link to find you Ascendant sign - FIND YOUR ASCENDANT SIGN
Scorpio Rising – February 2013
In the first half of February, the Sun and Venus will be passing through your 4th house of family and domestic affairs. You will certainly be more concerned about you family and you will naturally want to spend more time at home, but your thoughts and emotions will also be drawn to looking more inwardly at yourself and things that happened in the past. Events that affected you deeply in previous years will need to be assessed and analysed so that you can work out why they happened in order that you can solve any current problems or issues in your life. This therefore is a time of quite a lot of reflection and self-analysis. Women are important now, and a lot issues surrounding them or involving your mother will be important to you. Through this month you may enjoy spending time at home looking after domestic issues or entertaining friends or guests. Relations with your parents may well be congenial except on or around the 11th when Saturn makes a difficult square to Venus and you may hurt the feelings of someone in the family. During February, you may get the urge to improve the look of your home by purchasing new furniture, deciding it needs a lick of paint or a complete redecoration. As you may be so relaxed now, beware of putting on weight as you may have a love of good food and company. The New Moon on the 10th Feb highlights family matters, or issues concerned with your home.
Mercury and Mars in the 5th house are in a jocular and energetic mood for most of this month, and you may be interested in playing games or taking on mental challenges. Mercury in the chart is also the trickster in the sky, and here in the 5th house it is liable to encourage you to play practical jokes on others – be careful not to be insensitive. You will certainly be able to express your opinions and ideas clearly, but your ability to listen to other views will not as good as it normally would be either. Mars wants you to express your individual creativity. This is a competitive influence where you will enjoy sports and games and testing yourself. In an artistic sense you will enjoy all kinds of endeavours and hobbies where you can show individual talent; this is a time for going out, socializing and enjoying yourself. This is the house of love and affairs as well, so you may have a stronger attraction to lovemaking and sex than is normally the case, and children are highlighted right now. You may find that any children you have or are associated with may be very exuberant during February and they could cause you no end of trouble. From 23rd February when Mercury goes retrograde, your desire to create and compete may wane a little, so get the creative inspiration which Mercury in Pisces deserves, why not go out and see someone else perform in a concert, visit and exhibition or have fun with the one you love. A former love may turn up out of the blue or contact you now. The Full Moon in Virgo on 25th February making a square to Jupiter highlights friends or groups, issues of sharing, their possessions or even intimate relations with them. It is possible that someone's excesses or attitude may lead to a change in your own life.
This month Jupiter and Saturn change direction, Jupiter in Gemini at the start of the month and Saturn in Scorpio, which halts and starts retrograde motion on 18th February. Jupiter is traveling in your 8th house of shared finances, intimacy, power, death and inheritances and as a result of this you can now go ahead and make investments, get a loan to improve your prospects or you may benefit from stocks, shares or even selling your home. If you are in debt, then you may be able to clear some of the money you owe while Jupiter is in the part of the chart. Personal intimate relations will be more sure footed and any changes you decide to make in your life now will be long standing ones. Saturn is your 1st house of the self and personal projection, so now will be a time to redefine yourself as a person. This could come though changing your appearance, making new acquaintances, having new emotional attachments or getting a new job. What do you really need to change in your life to make you feel better about yourself? Now and in the next 4 months is the time to start thinking about these matters.
Other Ascendant Sign Forecasts
Aries Taurus Gemini Cancer Leo Virgo Libra Scorpio Sagittarius Capricorn Aquarius Pisces
For A More Personal Look At The Future
As with all general forecasts, this can only be a rough guide to the movements of the planets and how they may affect you. Would you like this forecast made even more relevant for you?
Get in touch with me at [email protected] providing your birth details or please go to the following link, and I will endeavour to see what the planets have in store for you personally in the next couple of months. Please note I am unable to do personal readings for free.
Get an astrology report by clicking here...
Spread the word about Solaris Astrology - Click here to go to my Facebook Page