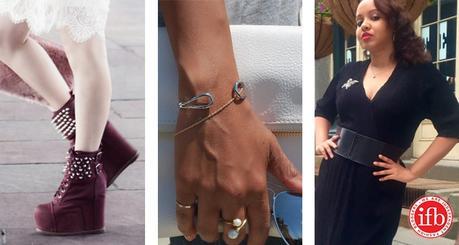 Links à la Mode, August 6
Savoir Style: 

5 Ways to Pull Off the Sheer Trend
A Handful of Stories: 7 Problems of a Teenage Goth
A Vogueaholic: For Your Eyes Only | Summer 2015 Eyewear Trends
Baybonnet: Reformation Caters to Boobs!
Cat Eyes & Skinny Jeans: August Crush List!
Drew & Alice: Tuck and Roll
Dresscode | HighFashion: Fashion Blogger Cafe Shoedition @ GDS Shoefair
Fear in Wonderland: Why are Pockets so Absent from Women's Clothing?
Greige Market: On Blogger Burnout
In The Grey: How to Get a Job After Graduation
La Vintage Vida: South Street Seaport
Life in the Fash Lane: Wishlist | Tassel Accessories
Ms. Fabulous: Eco Fashion in the Park
Rain of Peonies: The Perfect Liaison
Sassy Shif Says: DiamondTree Tassels Takeover India International Jewelry Week
Tales of Two: One Day in Madrid
The Wanderbliss: The Shoe Land | Alberto Torresi
This Season's Gold: Cut Short | Recovering in Ruffles and Denim Shorts
We Are Ready Made: The Coolest Kids of L.A.
Wish and Wear: Buying Pre-Loved Mulberry on Facebook
SPONSOR:
Amazon's Shopbop
Designers, Schutz, Prada sunglasses, Versace, Gucci, Edun, Lacoste, Jelly shoes, Tunic Dresses, Party Clutches, Red Ballerinas,
Men's Sweaters
Leave a Comment
Features
Share: