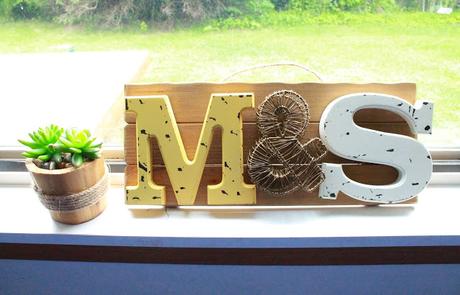 This is one of those few projects that I have been meaning to do for a long time but never got around to because I wanted it to be just perfect. It did not take much time but since I wasn't too keen on using glue on the plaque in case I wanted to change things up a bit for different seasons, it took a bit longer to figure out that wire nails would work just fine.
Supplies
Ampersand Wire Sign (Found at Michaels for $4.99)
The project is easier if you can get pre-painted alphabets on a discount from a Crafts Store and will take about 15-20 minutes. In case you decide the paint the alphabets yourself, the time would range anywhere between 1-2 hours depending on the paint and the drying time.
I picked the letters M & S - My hubby's and my initials and use leftover paint from another project. These ones came with pre-drilled holes and I had to use a measuring tape to mark the position of the letters. Once marked, use a hammer to insert the nails, place the letters and Voila, the sign is ready. You can use it to decorate a window sill or in a picture wall.