I can't believe how fast this year has gone by. Every year around May/June, I start to get that feeling - The feeling of how quickly have the past few months flown by. I think the fact that summer here ends by August just amplifies this whole feeling of what have I been doing all this time?
We have been trying to make the most of summer this around because at 4, my daughter loves to explore, meet new people and explore new places. Summer so far has been all about frozen treats, cotton dresses and being out and about in the blistering sun.
This look is more dressier than a simple top and jeans combo but casual enough for a trip to farmer's market or a lunch date with a friend. I have paired a cami top with a denim skirt and accessorized with a quilted bag and striped loafers.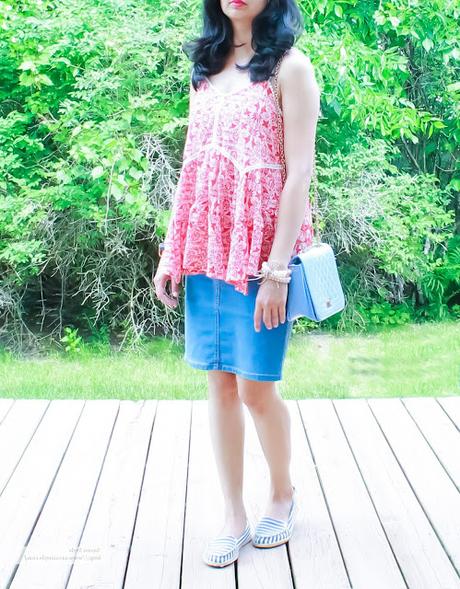 Printed Cami Top @Target, Denim Skirt @Forever21, Quilted Bag c/o, Striped Loafers @Famous Footwear
This outfit is by far my favorite this summer - A knotted top worn with cropped denim and white sneakers. If you are looking for a comfortable pair of shoes for summer that near about go with anything you wear - Think white sneakers.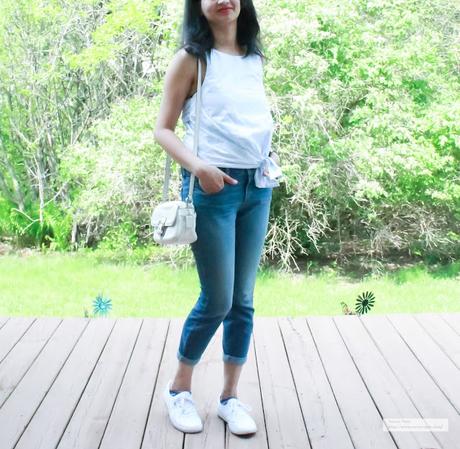 Top @Zara, Jeans @JCPenney, Sneakers @Keds, Mini Bag @Coach
Paired a pink ruffled blouse with white jeans and a pair of grey mules from Steve Madden which were a Mother's day gift.
Where: Lunch date with my daughter and visit to the local library.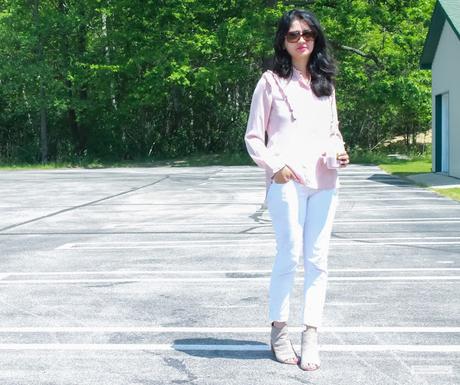 Ruffled Blouse @Forever21, White Jeans @Levis, Mules @Steve Madden
I have had this floral jacket for a few years (approx a decade) and it is just one of those things that I can't let go. I always find something old or new to pair it up with and I have had people ask me where I bought the jacket. This was an impulse buy from a store in India when I was just starting to build a wardrobe.
Here it is paired with a blue A-line dress that is perfect for the scorching summer heat and metallic flats.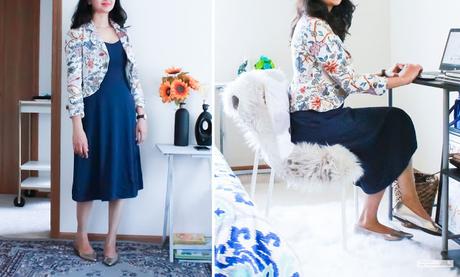 Dress @Old Navy, Ballet Flats @JCPenney, Blazer @ Code
My go-to outfit for running errands when the weather is wishy-washy so all I have to do is carry a jacket with me to stay warm on chillier mornings. The metallic flats from JCPenney are basic enough to go with any outfit but also striking enough when worn with solid color dresses.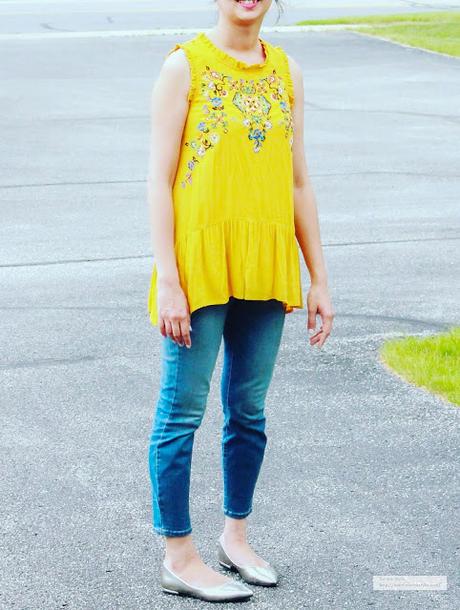 Eye shadow Top @Meijer, Cropped Denim @JCPenney, Metallic Flats @JCPenney
For more outfits follow me on Instagram @seepzc_