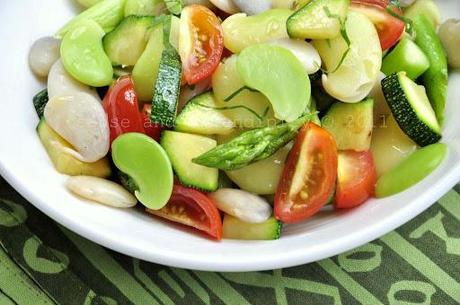 Visiting Salcedo Market is a breath of fresh air but going there every week is also expensive. There's a propensity to buy almost everything at the market, from raw fruits and vegetables, fish and shellfish, native delicacies, cooked foods, breads, potted plants, healthy stuff and many other things. One of those rare things that I found was lima beans.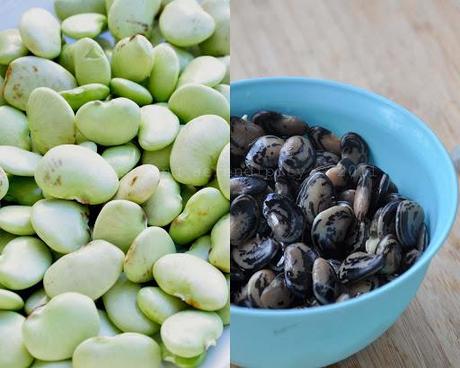 My stay here is more on visiting food shops instead of shopping for a whole new wardrobe. But this planned trip is more on family matters than a vacation. But instead of doing the things that I needed to do such as revising my lesson for nutrition class or trying a recipe on my list, I ended up doing something else. I felt that productivity is not kicking in and time has been wasted. But I didn't. I've been wanting to blog for a long time. I know I can blog even in school but I felt I could concentrate more if I do it here at home. I was also able to clean out my drawers for all the things I haven't touched for more than a year and that means they have to go. But there are also things left untouched. It felt like spring cleaning not only on the materials things, but also the body, mind and soul. While most people are spending their Lenten Season somewhere, I'm just staying at home. This is probably a good time to be still and do nothing, to breathe new life and words into everything and to cast away the negative emotions and words that I've inhaled and internalized from myself and other people these past few days and weeks. Maybe even condition my mind that I have to go back to work next Tuesday.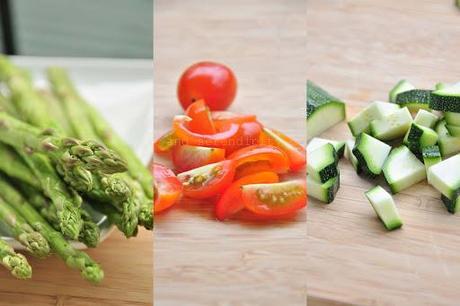 When I found these light mint green and black-speckled lima beans (aka patani) at the market, I just want to serve it just the way it is. Blanch until they're tender (without overcooking them) and cool down in ice, remove the skin and eat it. They're good on its own even without the salt. But I would also like to lightly cook them with zucchini, asparagus and cherry tomatoes and simply season with fresh herbs, lemon juice, sea salt and pepper. It's a very spring-like dish that is clean and refreshing. It's a good way to retrain your palate to taste fresh produce just the way it is. You may like to cook them longer if you like to blend all the flavors but I like the texture of each ingredient still intact.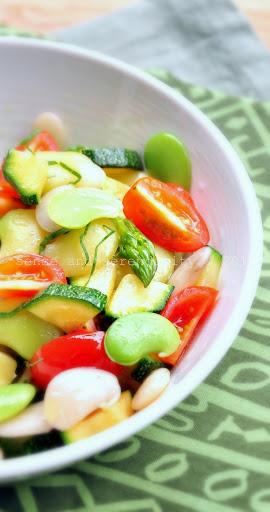 The experience of eating lima beans is more desirable when I remove the skin and eat them one at a time instead of removing all of the skin and making a dish out of it. But since I was too lazy to chew the rest of the dish and my
mandibular joint starts to wear out, I decided to make a soup. I sweat some chopped onions and add more fresh tomatoes and cook to release their juice, and then I add the warm lima beans with the cooked zucchini and asparagus, and some stock. I brought them to a simmer before pureeing and straining.
With Asparagus, Zucchini and Cherry Tomatoes
Makes 4-6 servings (as a side dish)
450 g fresh lima beans
1 medium slender zucchini
extra virgin olive oil
¼ to ½ cup chicken or vegetable stock
½ cup basil leaves or cilantro leaves
lemon juice
freshly ground black pepper
To prepare the lima bean s, bring a pot of water to a boil. Then, prepare an ice bath. When the water is boiling , add the salt and stir to dissolve. Add the lima beans and blanch for 7 to 10 minutes until the skin is moist and pliable. Try a piece to check if the beans are tender but not mushy. Drain the beans through a colander and transfer to an ice bath. When the beans have cooled, take them out from the water and remove the outer skin.
To prepare the other mise en place , peel and emince the garlic, cut the cherry tomatoes into quarters, then cut the zucchini in 1/2 inch pieces, snap the asparagus to remove the end stalk and cut them diagonally into 1-inch piece. Set aside.
To cook the dish , heat the olive oil in medium heat followed by the garlic and tomatoes. Cook until the tomatoes starts to release some juice. Add the lima beans and a little bit of the stock and cook for 5 minutes. Add the zucchini and cook for another 2 minutes. Then add the asparagus and cook until they're crisp tender. Season with salt and pepper to taste.
To serve the dish , remove from the pan from the heat. Roughly chop the herbs and add to the pan. Add the lemon juice to taste and finish with extra drizzle of olive oi.