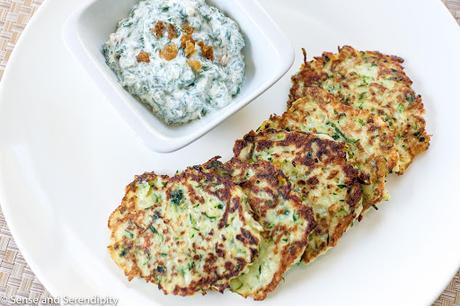 A few days before I was confined at the hospital, I went grocery shopping so I can cook a few dishes ahead of time. So I thought I would make beef, pork and chicken to cover the days that I wasn't around. I also had cut up vegetables and chicken stock prepared for soup and some fruits in the fridge drawer. All of these are mostly for Nate. But what I've failed to do is to prepare more vegetable dishes for him. My concern is that if I do prepare it ahead of time and the person who is reheating is not so knowledgeable about it, the vegetables would become a waste and Nate might not eat it. With John's mom not around, John and I have no choice but to leave Nate with the trusted helper. Yet with vegetables, instead of being at the bottom of the food pyramid, it has become an occasional side dish. When I came home from the hospital, I almost forgot if Nate had his bowel movement already. So, the following day, when I learned that he didn't have one for three days, I decided to make these Zucchini Fritters.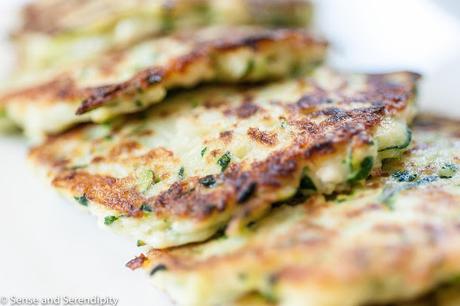 I made these a few times before and he really likes it very much. I usually serve it with
tzatziki
with all the grated cucumber, onions and garlic except no dill or mint. What he will do is that he will spoon the sauce into his mouth forgetting that he has to dip the fritters in the sauce. There were days that I would make this for him most especially if I don't know what to feed him. Yes, I also ran out of ideas too. So, sometimes his tzatziki sauce would only just be Greek yogurt, lemon and salt. Surprisingly, he would still eat it. I've trained him how to eat Greek yogurt before he turned one. I would always pair it with steamed potato drizzled with honey. Praise God he still eats it until now.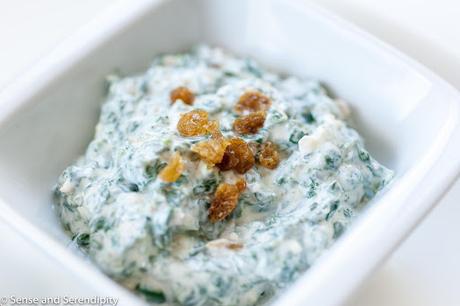 Well, Nate wasn't able to have his bowel movement on the 4th day, so we have to insert a suppository as advised by John's sister. He was such a pity to look not knowing what we are doing to him. Eventually, it came out after a few minutes and we felt relieved.
I wanted to add more greens to his diet so instead of serving with tzatziki, I'm serving him this spinach Greek yogurt with golden raisins.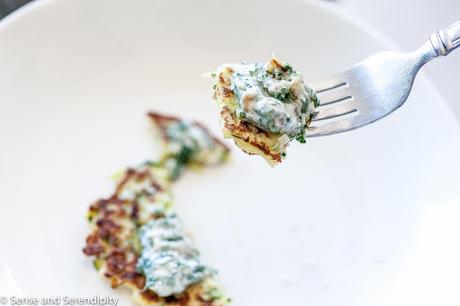 Zucchini Fritters with Spinach Yogurt Dip
Dip
300 grams spinach
2 shallots
2 tbsp golden raisins
½ tbsp olive oil
¾ cup (200g) Greek yogurt
½ tbsp lemon juice
Fritters
2 pcs (350 grams) zucchini
½ white onion
1 garlic clove
½ tsp sea salt
25 g Greek feta
1 egg
3 tbsp (25 g) plain flour
2 tbsp (15 g) cornstarch
2 to 4 tbsp olive oil for pan frying
To prepare the dip, boil a pot of water for blanching. Remove the leaves of the spinach, finely chopped the shallots and roughly chop the golden raisins then set aside. Prepare an ice bath for blanching. When the water has boiled, add some salt and blanch the spinach for 20 seconds, then transfer in an ice bath to cool, then drain and squeeze out the excess water. Finely chop the spinach.
In a small pan, heat oil over medium heat. Add the oil and the shallots and sweat for 2-3 minutes until the shallots are soft and translucent. Add the golden raisins and cook for another 2 minutes. Remove from the heat.
In a bowl, combine the spinach, the shallot mixture, yogurt, and stir to combine. Season to taste with salt and lemon juice. Transfer to a serving bowl and top with more golden raisins.These can be covered and stored in the refrigerator until it's ready to serve.
To prepare the fritters, grate the zucchini, onion and mince the garlic Combine with salt and place in a colander set in the sink and set aside for 20 minutes to soften. Crumble the feta with a fork, crack the egg and measure the flour and the cornstarch.
Squeeze excess water from the zucchini and pat dry with paper towels. In a bowl, combine the zucchini, feta and egg. Stir in both of the flour, season and stir to combine.
To cook the fritters, heat oil in a large non-stick pan. Then, drop in tablespoons of the batter and cook for 1-2 minutes on each side until golden and cooked through. Transfer to a plate with a paper towel to drain the excess oil. Continue cooking the rest of the batter.
Serve the fritters, warm or at room temperature with the dip.
Note:
Prepare all the ingredients first for the dip. Then prepare the fritters and when the fritters are ready, combine all the dip ingredients together.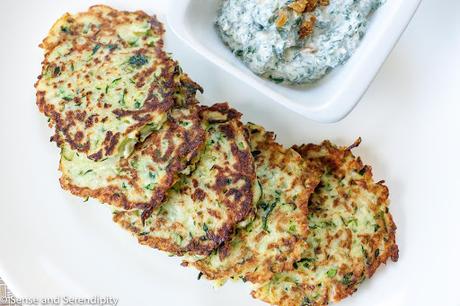 Now that I'm back, he's bowel movement is more regular and I hope that he would continue to eat his vegetables and explore new ones.