It's wedding season once again and many brides who are getting married this June or this year are really trying their best to look great, whether that's getting in shape or eating well for glowing skin.


There are so many ways you can stay healthy and nourished on your big day but let's focus on snacks for now. The secret tois to plan ahead of time and making sure they are within reach. Think of it has having a mini take-out section at your own home. Second, it's important to focus on because they help you control your total calorie intake. So, stock your chiller, freezer and pantry with healthy and nutrient-dense foods, that way it's easier to fill up your body with nutrients than empty calories.
My struggle 3 years ago was to really find the time to make healthy snacks or even meals for myself and my fiancé. Going out to eat, which is what we usually do is an option but it would save you a lot of money if you do your own.
Below is a great graphic from on how to reach your wedding goals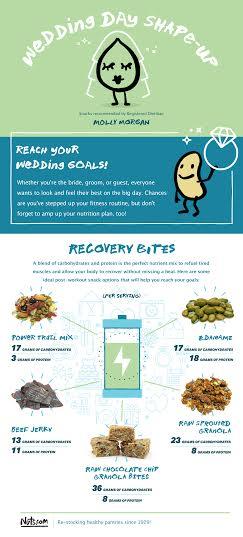 Either you eat them as is, as toast with high protein bread or use them in your protein smoothie and dip. Avocado is everyone's favorite because of its satiety value.
Dips
My husband loves dips such as hummus, tapenade, baba ghanoush, white bean dip, labneh, spiced carrot dip, yogurt spinach or black bean dip just to name a few. They are great to have on stock in the chiller and make sure if you have some crackers on hand such as ancient grain cracker or seed crackers along with some cut-up fruits and vegetables.
Chia Pudding Parfait or Overnight Chia and Oats

This one doubles up as a snack or breakfast. They can be made ahead of time and stored in the chiller for a week days. The ratio is 1 part oats to 2 parts liquid plus extra liquid for the chia seeds. You can use any milk you like. The simplest procedure is to combine them in a jar with a healthy sweetener and let it sit overnight. To make it more fancy, you can fold in some dried fruits, seeds or nuts, then top with fresh fruits the following day. It's also a great vehicle to add flavor into the mixture such as roasted pumpkin, apple or bananas, cherry, mango or blueberry puree or even matcha and chocolate.
Fruit and Nut Bar/ Granola

If having granola with Greek yogurt and fruit is too common for you then make them into bars. It can be filled with oat or quinoa flakes or just pure fruit and nuts. A raw energy bar is made with pureed dates and nut butter as a binding agent and they are molded into a baking pan, chilled, before cutting into bar or just form them into balls. Sometimes they are baked for a crunchier texture. Here's a great homemade granola bar recipe.
Miso Soup
Something unusual for your snacks but it's a great tummy filler. Miso soup with wakame, tofu and green onions is a classic but adding some poached eggs and a bit of green vegetable such as asparagus, broccoli or watercress would be a great way to ease up your hunger. I usually skip the dashi stock and use water or chicken stock if it's available. The miso paste is quite tasty enough.
Soups
Definitely more soups. I love to make a big batch of soup and freeze the rest for emergency purposes. They are very helpful to satisfy your cravings and hunger giving you lots of nourishment and of course satisfaction. Pair it with ancient grain/seeded crackers or roasted chickpeas as your croutons for added texture. Some kale chips would be a great accompaniment too.
Lettuce Wraps
This is another dish that can be made in advance for your lunch or dinner but it can also be a great snack in smaller portion. Cooked protein such as grilled chicken or shrimp, some quinoa or bacon tempeh is wrap in romaine, lollo rosa leaves or even kale leaves then topped with more raw vegetables and herbs. Don't forget the sauce. It can be a pesto sauce, nut sauce, a vinaigrette or a yogurt sauce. The sky's the limit and there are so many variations you can make. This a fresh alternative to using tortilla wrap as well as the leafy vegetables are hats-off higher in nutrients.

It's like eating nuts or seeds but something different. They are high in protein and low in fat. If you love eating nuts and seeds for snacks, you would love roasted chickpeas for a change. They can also be flavored in so many different ways like you would do with nuts and seeds.

Now, that you know what to eat, there's no more excuse not to have them on hand. Each snack has many possibilities, but for now, let's keep the preparation simple and you can explore more recipes after your wedding day. Remember it's not a diet but a lifestyle that you will bring with you for a lifetime. Don't forget to read about healthy snacks and high protein snacks at for more information, recipes and idea. Finally, make sure you have inner peace because what's inside will eventually come out. So smile, relax and enjoy your wedding day.
Are there any healthy snacks you would like to add?