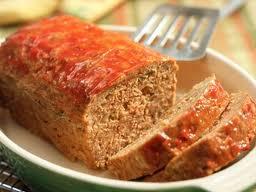 TIME: 25 MIN.
DIFFICULTY ': **
INGREDIENTS:
400 gr. of minced beef
2 eggs
2 sprigs of parsley
30 gr. stale bread
3 tablespoons grated parmesan cheese
1 sprig of rosemary
1 grated nutmeg
1 pinch of salt
PREPARATION:
Break up bread and soak it in beaten eggs just.
Wash the parsley and rosemary.
Chop finely with a knife or food processor with the.
Add the parmesan, eggs, salt, nutmeg and herbs.
Mix everything with a fork until dough is smooth.
Turn the oven to 200 degrees.
Line a rectangular tin with baking paper.
Pour the dough.
Put the mold in the oven.
Bake for 40 minutes.
Pour the meat loaf on a plate and cut into slices.
Serve.
ALSO IN MICROWAVE
Bake 10 minutes at maximum power meatloaf covered with plastic wrap.