I am still waking up from my Irish running dream.  To be honest with you, the experience has brightened, elevated and enhanced my passion and awareness of the awesomeness of our sport and the people who make it what it is.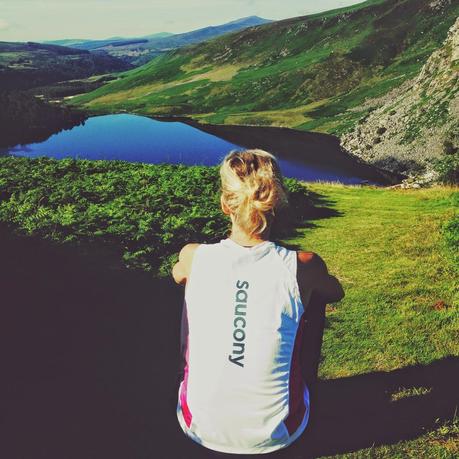 Stepping back into reality after spending a whirlwind three days surrounded and enveloped by incredible individuals who love running and who believe in the power of our sport to elevate people and change their lives - in a breathtaking part of the world, no less! - has left me feeling so incredibly happy and thankful ... wanting to pay it forward and do all that I can to help others find their inner strength and joy through our sport and the community that makes it so incredible.
As a coach for the Saucony 26 Strong program, I was selected at the last minute to go to Ireland to experience what was truly the race of a lifetime - the Saucony Race to Kinvara.  The Race to Kinvara is an expertly planned stage relay race across Ireland, from Dublin to the west coast town of Kinvara. The race is the culmination of a retail contest Saucony holds each summer (last year was the first one) with their specialty running stores in the US, Canada and Europe.  Beginning in May, employees of specialty run stores received sweepstakes entries for every pair of Saucony shoes that they sold.  At the end of the contest in late June, Saucony held a grand prize drawing and selected 63 individuals to go on this trip!  Everyone who was there was connected to and passionate about our sport in some way - and entirely pumped and shocked and just so dang excited to be there!  Myself absolutely included - I could not take the smile off my face, it just came from so deep inside me.  I don't even really know how to tell you what the energy felt like - it was just electric.  Saucony treated us with such gratitude, excitement and awesomeness ... I could feel it in every single interaction I had with every single person I spoke to, from the moment I met my first fellow travelers at the check-in gate at the airport, to when we had to say our goodbyes three days later to make our connecting flights.
I arrived in Dublin Wednesday morning after an overnight flight.  I slept a lot on the plane (almost the whole flight!) and was so excited when I arrived that the tiredness didn't have a chance to impact me for a while.  We went straight to our hotel - this charming adorable place! - to check in and were given awesome special edition gear as soon as we arrived!  I was just blown away moment after moment, you guys.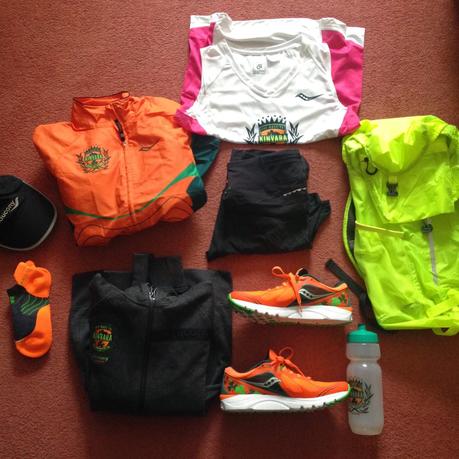 We made fast friends and immediately a bunch of us went into the city to explore for a couple of hours before all winding up at the Guinness Storehouse for a sweet tour (so cool!), a cold amazing beer (it was delicious) and dinner!  Saucony divided all of us up into 10 teams with 8-9 runners each.  There were four US teams, two Canadian teams, and then one team each from Germany, France, UK/Ireland and The Netherlands. At dinner we sat with our teams, each named after a Saucony shoe, and got to know one another and plan out who would run which legs during the first stage of the relay, beginning the next morning.
I loved my team.  We were called Team Zealot, named after a shoe that will be released (I believe) in February of 2015.  The shoe sounds awesome and if it is anything like the team that was named after it, it will be pretty much LEGENDARY, paving a whole new road and surprising everyone in the world of running!  The coolest thing about my team, and I believe probably every other team that was there, was that we were all really different and unique as people and as runners, but we were all tied together by our passion for the sport. Running plays a huge role in each of our lives, so much so that we have made our passion deeply connected to our purpose in our lives, whether we are working for Saucony, working part time or full time for our local running store, managing a running store, or coaching for a running store ... we all love running, have been molded by it and want to share that with our communities and beyond.  Even though I only knew them for a couple of days, they each impacted me greatly.  I feel so lucky to know each one of them!
Day One started early in the morning on Thursday.  Each team had our own fancy van with a driver, as well as a "moto" - a personal motorcycle escort for each runner on the windy Irish countryside roads!  I'm not sure exactly how far away the Start was from our hotel because our driver got a bit lost and we arrived late, delaying the start.  It was kind of hilarious at times, and we got a gorgeous scenic view that no other team got to experience because we wandered off the beaten path!  The race began in a little town called Blessington.  I thought this was so fitting, to start the race in a town with the word "Blessing" in its name.  I thought about this a lot on the trip - how being there was such a BLESSING, how every single run is BLESSING, how our community of running is a BLESSING ... and I would not take a second of it for granted.
We started I think around 11am that morning and it was a day of beautiful running and tons of excitement.  I ran in the afternoon along a gorgeous trail by a river.  It was hot and sunny and the terrain for my run was grassy and rocky but it was so beautiful.  I averaged 7:34 for a little over 5 miles and loved it.  Later that afternoon I did a second run, just to move a little more and accompany my teammate Emily on her second run of the day.  It was a little over 3 miles on the same trail but when we got started Em went crazy fast and I wasn't able to keep up with her sub-7 miles!  So I ran it easy and just soaked it all in, happy to be breathing in the fresh Irish air.  It was amazing.  We had tons of fun at all the exchange points too, just hanging out and visiting with one another and with the other teams as they also waited for their runners to come in!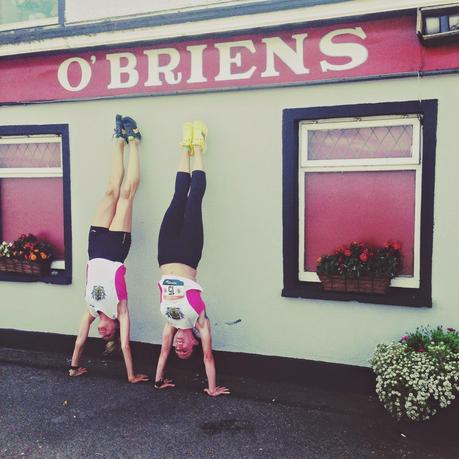 We finished that day around 5pm in a little town called Kilkenny, right outside a pub! Saucony treated us to whatever we wanted at the pub - beer, cider and food! - and also had tables lined up with massage therapists for everyone.  I could not believe it!  The cold cider and massage were just beyond awesome.
We stayed in an adorable hotel in Kilkenny and that night went to Kilkenny Castle to celebrate our awesome day!  We were serenaded by bagpipes upon our arrival, had a visit with the mayor of the town and were treated to an incredible dinner inside the castle that night.  It truly was magical.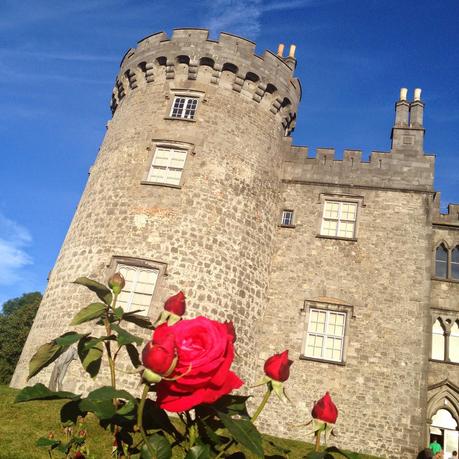 The next day truly blew me away though.  We woke up early and drove two hours to the Cliffs of Moher along the west coast of Ireland.  I have never seen a place like this!  It was just AMAZING.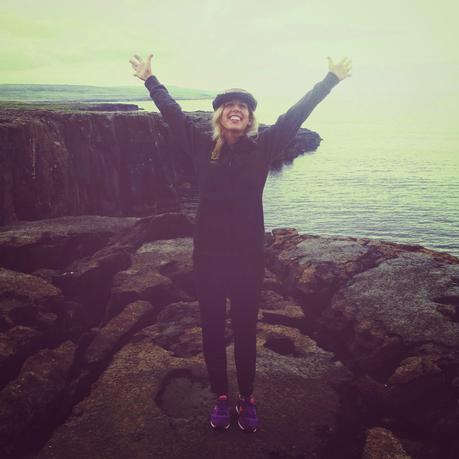 The race started right on the cliffs that morning and we ran all the way to Kinvara that day.  The views that day were just so beautiful.  My run was the most incredibly gorgeous run of my life. The Irish coast was along my left and the countryside on my right. I smiled so big that whole run.  I averaged 6:58 for a little over 5 miles and it felt effortless. I just soaked it all in.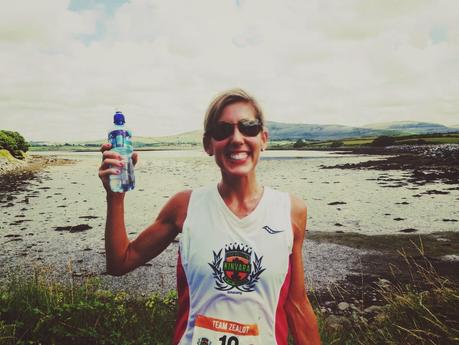 I was so happy to see my teammates when I ran into my exchange. I did not want the experience to end.  When we arrived in Kinvara later that afternoon it was a huge party!  Another awesome finish line, another charming pub and more massage tables!!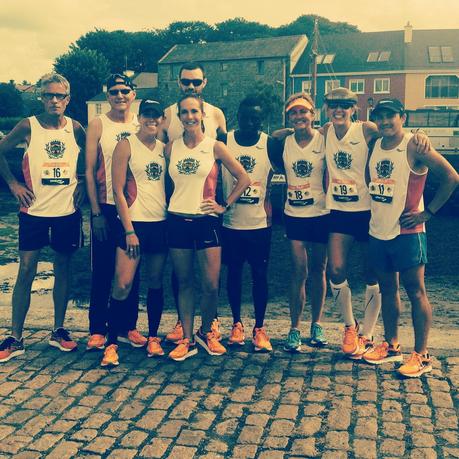 That night we stayed in a hotel in Galway (about 30 minutes from the finish) and had a TON of fun.  Saucony arranged an amazing Irish dance performance, gave us a lavish dinner, put together a fun slide show, hosted an awards ceremony (each runner received a metal and the winning team got a bronze trophy of a Kinvara shoe!), and then the night continued with a DJ'd dance party and open bar!!!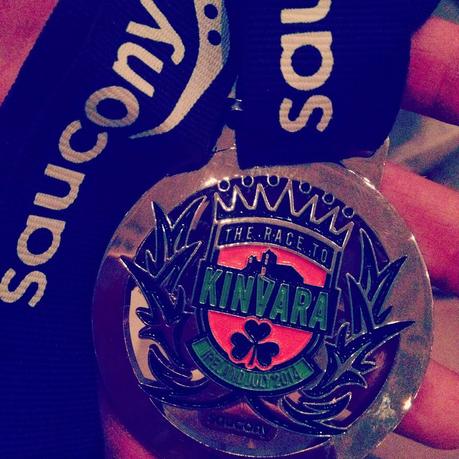 I have been home for a week now and I know it might sound silly, but I really truly feel as though this experience changed me.  Yesterday I coached for my local running store, just like I do every Saturday morning, but I felt this renewed and revived sense of purpose doing my job, and a heightened appreciation for the people who work at my store and who coach alongside me.  Running stores, and the people who work at them, ROCK.  They rock because they care.  They take the time to understand anyone who wants to run - whether they are a high school track star, an elite marathoner or someone who has never stepped into a pair of running shoes.  They rock because they believe that running can change your life, and they want to set people up for success by getting them in the right shoes, the right gear, and even coaching them and educating them on how to be healthy and safe and strong.  The only place you can go to really get this, is a local running shop. You're not going to get that level of knowledge or attention, or passion and encouragement, from a department store or from a big sporting goods store.  Saucony knows this and appreciates and values this like no other company, and they make it a huge priority to elevate everyone through our sport.  I am simply blown away and lifted up by my experience and feel so incredibly thankful to have been included in such an awesome endeavor that means so much to me!  I will, without a doubt, carry this experience and the lessons I learned in my heart and let it shine out in all that I do as a runner and as a coach.
Thank you so much Saucony - and everyone who was at the Race to Kinvara (especially my team!!) - for the experience of a lifetime!  I am forever grateful!!!!