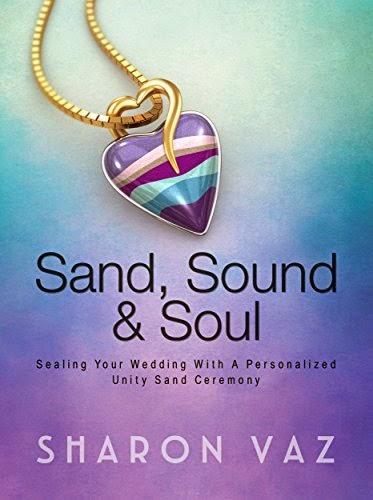 Sand, Sound & Soul: Sealing Your Wedding With A Personalized Unity Sand Ceremony
Discover Sand Ceremony Secrets for Creating the Best Wording, Unity Pouring Styles, and Color Palette Choices!
In her ground-breaking new book, Sand, Sound & Soul: Sealing Your Wedding with a Personalized Unity Sand Ceremony, Sharon Vaz takes you on a fascinating tour of today's most unique wedding and commitment ceremony – capable of displaying your love on a whole new level.
The beauty of a Unity Sand Ceremony – and the secrets for making it all come together flawlessly on your special day – are all described in great detail in this book. You'll fall in love with the concept of a Unity Sand Ceremony (if you're not already). And you'll know exactly how to design yours with astonishing relevance and an expression of the meaningful depth of your love and togetherness. 
From choosing the right wording to the best colors for your sand palette, Sharon Vaz walks you through the myriad of choices – explaining what they mean, how they got started, and how to make them possess even extra special meaning for you and your loved one. 
Special care is taken to show you how to choose the colors of your Unity Sand, as well as the vase that will forever memorialize your beautiful ceremony. Sharon Vaz also has a unique system for using your own "value system" as the basis for choosing colors. She shows you how to choose exactly the most appropriate colors, textures, and forms for the occasion. Nothing is left to chance. 
Ideal wordings are also supplied, with complete text for you, your partner, and the officiant or celebrant. Furthermore, special text can be read aloud so that all your guests understand what's going on, too. When guests feel included and know what the ceremony means, it's that much more special for everyone. They're able to fully join in your emotion and enthusiasm. That's why Sharon Vaz includes seven ready-to-use Officiant Introductions with this book! 
If you're designing a wedding ceremony, a special anniversary, or any other ceremony, Sharon's expertise and guidance will give your ceremony so much more than if you tried it from scratch on your own. Her unique flair comes through as she describes a customized sand pouring sequence – from the small and intimate to the large and elaborate ceremonies. 
Don't wait until the last minute to start planning. And don't make the mistake of thinking you can "wing it"! You shouldn't even think of planning a Unity Sand Ceremony without this book – with all the secrets and tips it holds for your special day!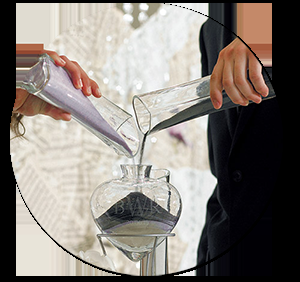 I myself am getting married this May so the chance to get a free copy for some good new advice was very welcome
Yes at first few pages I was not sure it was going to be for but the further I got the more and more it came addictive to read more, 
the unity sand ceremony is one of a beautiful and unique concept.
The opportunities and ideas to create the perfect and magical moment to make your ceremony even more special.I have also found that this book will be very useful to wedding planners and life coaches.
Sure have to admit did not know about wedding ceremony such as these it has certainly opened up my eyes.
You can buy the book over on - http://www.amazon.com/dp/b00rr2xmky