As expected, Samsung has launched the Galaxy Note 2, which is even bigger than the first Galaxy Note. Many did not think it was possible to make it bigger, but Samsung has done it, and they pushed the concept of Galaxy Note phone to the next level.
First of all, the design is beautiful, and although it is available in two colours, we must admit that we prefer pearl white version. It looks great in the first Galaxy Note, but it also gives an air of elegance to the Galaxy S3. The combination of the two designs gave a winner here. Except appearance, there are three things that have been improved.
Galaxy Note 2 – Be Creative
First, the software has changed dramatically, thanks to the work done on the Galaxy Tab 10.1, which was recently released in the U.S. Smartphone version includes all the good things of the tablet and the notes will be synchronized on multiple devices by Samsung – including PCs. It is even better and more useful.
Then, the battery capacity has increased by almost 70% (from 1800 to 3100mAh). This is very important because although the first Samsung Galaxy Note had a good battery life (especially in standby mode), it is never enough, especially if you take into account the addition of 4G LTE and a quad-core processor. We cannot wait to test battery life in real life conditions.
And finally, the performance and responsiveness are all excellent. This is really the only thing that bothered me with the first Note. Fortunately, the Samsung Galaxy Note 2 solves this. This is critical because a user should never wait for a device response for too long. For the moment, Note 2 is as responsive as the Galaxy S3, which is excellent. The S Pen is more precise and more for a better grip in the hands and it is mostly detected when approached to within 1cm of the screen!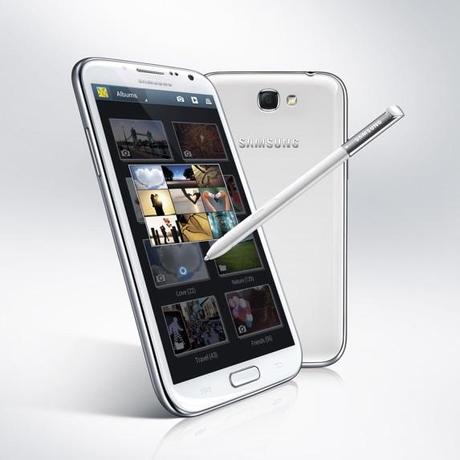 Samsung Galaxy Note 2 - Pearl White
This new hybrid version of the smartphone is equipped with a Super AMOLED HD 5.5 "with a resolution of 1280 x 720 (267 ppi) compatible with the S Pen stylus (included new model), a quad-core Exynos processor clocked at 1.6 Ghz with 2GB RAM and GPU Mali 400 MP, with a capacity of 16GB, 32GB or 64GB, a NPC 8Mpx, port mciroSD, a front camera 1.9MPx, the Wifi / Bluetooth / NFC / aGPS and a 3100 mAh battery, all under Android Jelly Bean 4.1.1 + TouchWiz. Its dimensions are 80.5 x 151.1 x 9.4 mm 180g. It will be available on October 25 in White and Titanium versions.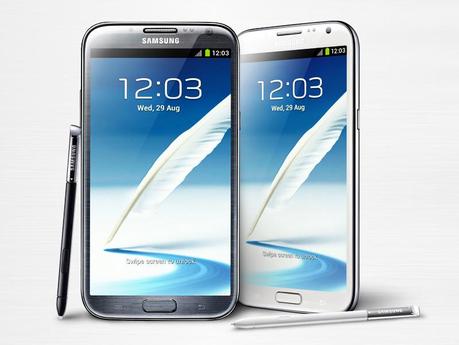 Galaxy Note - Black and White
The Galaxy Note II provides a finish similar to the Galaxy S III, a high-contrast Super AMOLED screen format 16/9 and not 16/10 and a reduced thickness as it passes from 9.65 to 9.4 mm. Basically, Galaxy Note II is a Galaxy S III supercharged and bigger!
As you already know, we offer widest range of Galaxy S3 accessories, at the most affordable prices, and Galaxy Note 2 accessories are soon to follow!