I used to really dislike salmon. I know, right? Weird. Its the worlds most loved and common fish isn't it! Well I wasn't that keen! (Apart from smoked salmon – always loved that!) Over the last couple of years though, something has changed. The more I dare myself to try it, the more I seem to like it, to the point now that I will actively seek it out on menus and at home. I still prefer it in other ways to purely fried/roasted/poached so am always trying to do something different with it. In my current phase of adoring sushi, sashimi and curing things I thought I would try a salmon tartare.
I guess people might be scared of eating 'raw' fish, but in fact the lemon juice in the recipe 'cooks' the salmon in a way, so as long as your fish is fresh and good quality there shouldn't be any cause for concern! More traditional tartares would use parsley as the herb, but I prefer chives. paring this with some slightly acidic pickled cucumber just adds a bit of crisp clean flavor that cuts through the salmon too.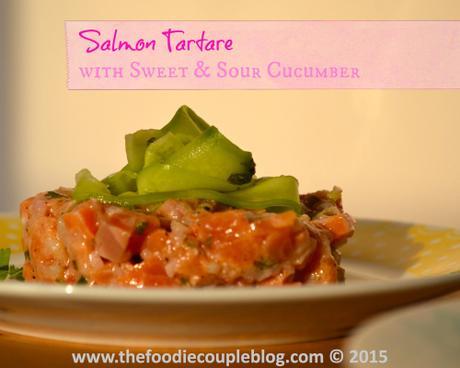 Serves 2 as a lunch or light dinner
Ingredients
For the salmon:
2 boneless salmon fillets, skin removed
2 tbsp lemon juice
2 tbsp olive oil
1 tbsp capers – finely chopped
1 tbsp chives – finely chopped
1 small shallot, peeled and finely diced
twist black pepper
For the cucumber:
half a cucumber
1 tbsp caster sugar
2 tbsp rice wine vinegar
1 tbsp coriander leaves, finely chopped and a few extra to dress the plate.
1 tbsp rock salt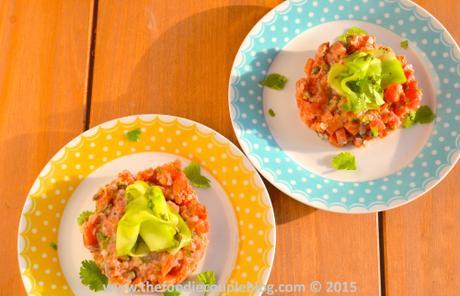 Method
Firstly prepare the cucumber – peel and cut lengthways, then scoop out the seeds. Slice thinly in vertical slices on a mandolin or with a peeler.
Layer the cucumber in a colander and cover with the salt. Leave for 1-2 hours. (this draws out some of the water in the cucumber)
After the 1-2 hours – prepare the tartare mix. Put the lemon juice, oil, chopped capers, shallot and chives in a bowl and mix, adding a little pepper to taste.
Prepare the salmon. Cut into about 5mm dice and place into the same bowl with the other tartare ingredients. Mix well and place in the fridge.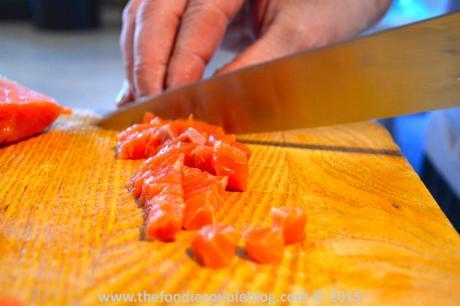 Rinse the cucumber well and pat dry. Place in a bowl with the rest of the pickle ingredients and mix well. Place in the fridge alongside the salmon and leave both for about 30 minutes.
To serve, use a cookie cutter as a mold to build the tartare, then remove. Top with a few curls of the sweet and sour cucumber.
Happy eating :)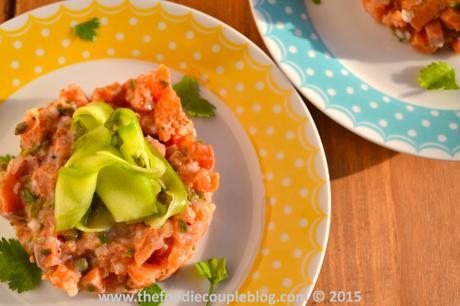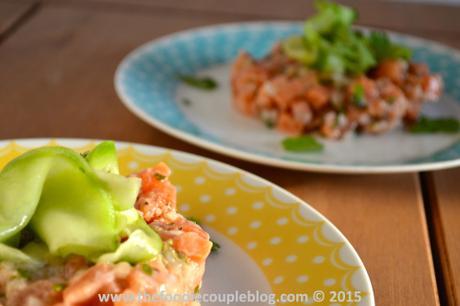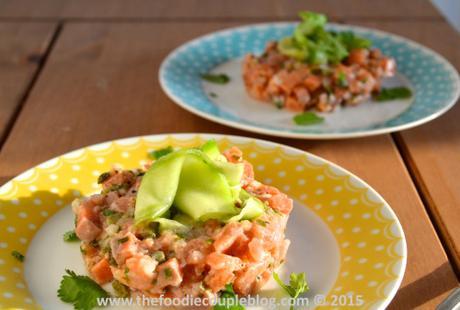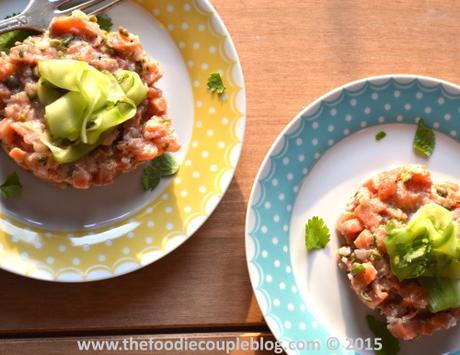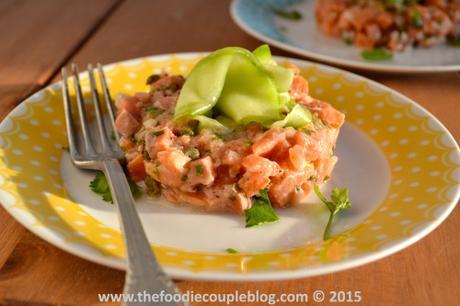 Follow me: