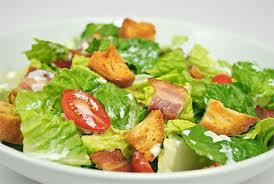 TIME: 15 MIN.
DIFFICULTY ': *
INGREDIENTS:
455 gr. bacon
180 ml. mayonnaise
60 ml. milk
3 gr. garlic powder
black pepper q.b.
Salt q.b.
1 head romaine lettuce
2 large tomatoes
80 gr. with croutons
PREPARATION:
Wash, dry and chop lettuce into pieces.
Wash the tomatoes thoroughly and cut into small pieces.
Place the bacon in a pan and let brown for a few minutes over medium heat.
In a blender put the mayonnaise, milk, sprinkle with pepper and garlic powder, all in cream and reduce.
Add salt.
Put the lettuce in a salad, add the tomatoes and bacon, ending with the sauce and mix well.
Serve with toasted bread.