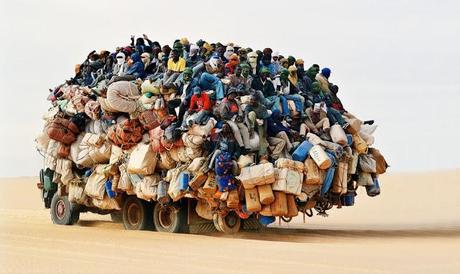 Sahelzone, Niger, region eastern. 
Trucks croos the Grand Erg ( dune sea ) of bilma in the ténéré desert. workers migrands back from Libya. they have to work during long month, to pay in Dinar which does not have any exchange value. 
They buy goods( bicycle, sewing machine, television set, radio... ) to resell in their countries ( Mali, Niger, Nigeria,Burkina-Faso... ) 
The voyage lasts 20 days (+/- 2500Kms), reason of +/-13:00 hours per day has ( the truck stopped the night for safety reasons.) the passengers face temperatures of 113( 45° ) the day and the 28,4 (-2°) night. the starting point has the border Libyan/Niger is city Toummo, the point of arrival in Niger is city Agadés.