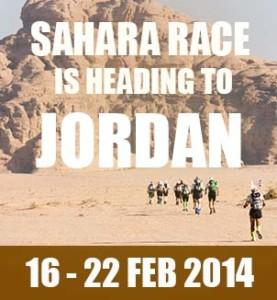 The Sahara Race is part of the 4 Deserts Race Series and in 2014 will take place in Jordan. Starting Sunday, 16 February and concluding on Saturday, 22 February, this seven day stage race covers 250 km and is self-supported – competitors must carry everything they need for seven days.
The event will begin in Wadi Rum, made famous by Lawrence of Arabia and his Seven Pillars of Wisdom, and travel through four deserts to finish at the World Heritage Site of Petra.
Competitors will sleep in Bedouin tents with open fronts facing the central campfire each evening.
Approximately 200 competitors from 40 countries are expected to compete in the Sahara Race 2014.
Approximately 20% of competitors run the entire course, 60% combine running with walking, and 20% walk the entire course. The fastest completion time is expected to be around 25 hours and the slowest around 70 hours.
The terrain will include sand (hard packed, soft sand and some sand dunes), gravel roads and dirt roads. The course will also cross a salt lake, pass through unique rock formations and across a stunning canyon.
Visit the Race website at: www.4deserts.com/sahararace/
From Multidays.com, post Sahara Race Is Heading To Jordan 2014