This Thursday I was lucky enough to have the chance to run with a great Australian (recently awarded the Tasmanian Australian of the Year) and Ultra-runner who is one of the most passionate individuals I have had the pleasure to meet.  Deb De Williams is currently running around Australia to raise funds for the
National Breast Cancer Foundation
, and is well on her way towards her $300,000 target. A breast cancer survivor herself, she is not afraid of a tough challenge, and this must be one of the toughest. This is her second attempt at the distance when broken bones in both feet stopped her in her tracks after 10,824kms of her previous attempt in 2008-9, which included 800kms of running with broken feet, before she finally listened to her doctor's orders. This time she is right on track and hasn't had a single day off!
I caught up (literally) with Deb in Cooroy on her day 314 and ran with her to Eumundi, and had the pleasure of spending 2 hours with this extraordinary individual.  How someone can be so generous with their time and energy, whilst in the middle of such a challenge is amazing.  We talked pretty much nonstop whilst running, which was impressive in itself as it was a 33C sunny, humid day with no significant shade.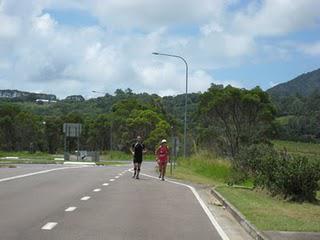 I think Deb was trying to get away from me so she could stop talking!
What impressed on me most was her dedication to her cause, it is certainly not about the running, but the running is a means to promote the cause for which she has such passion. She said to me that she "wouldn't wish what she went through on her worst enemy" although I can't imagine she has any! So now the focus of her life is on raising sufficient funds to make a difference to the lives of women already suffering from breast cancer, and to hopefully prevent this indiscriminate killer from taking any more lives. She was a fit and healthy ultra runner herself when she was first diagnosed, which just demonstrates that no matter how you live your life you are still at risk.
I am amazed that she and her family have funded the entire event themselves, outside some product sponsors. This is an awe inspiring achievement and demonstration of sacrifice and commitment as basically she has been on the road since 2008!
She is supported by Glyn and her parents (who I didn't have the chance to meet). Glyn leap frogs Deb's progress every few Kms to log the distances, offer food and drink, provide medical back up and of course the essential psychological support. Her parents move ahead to the next town and set up fundraising events to be underway for Deb's arrival, at which point she joins in shaking tins for donations, or speaking at a school, council, or other public group to promote her cause. I've got to be honest after a day of running there is no way I'd want to be performing a public speaking event, again a demonstration of her devotion to the cause.
Whilst there is no doubt over the Deb's role in the challenge, her parents and partner are equally responsible for its success, they too are heroes!
Given my own charity ultra challenge I have set for later this year, the entire route of which has been covered by Deb and her team, I picked up some valuable tips for myself and my crew. It really makes you appreciate that this may be a solo sport, but it is certainly a team event (I will cover crewing in a separate post as it is another great topic).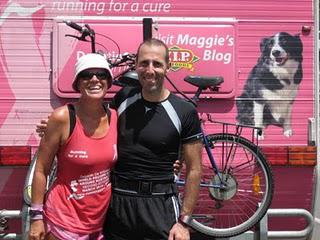 Thanks for a great day :-)
So I want to put a big thankyou out to Deb and the team for allowing me to tag along, share in the experience and pick their brains. It was an opportunity to good to miss to meet with them, even worth flogging myself in the heat 2 days after my
12 hour treadmill run
to get back the car in time after I had to leave Deb on her journey South.
Please support Deb through her event website -
RunningPink
and you can follow and contact the team daily through their
Facebook page
Run Happy!
Andy
www.ultrarunning.com.au