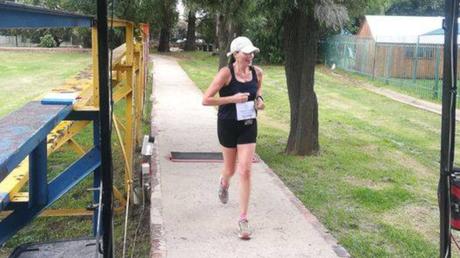 The Running Festival Wychwood started on December 17th 2020 at 12:00 noon in Germiston, Johannesburg, South Africa.
After setting a new South African women's 48 hour race record of 252 km in October this year, Cornel Metcalfe turned her sights to the 6 day and after leading from day one set a new South African women's 6 day record with 640.5 km.
6 Day Race Results
Cornel Metcalfe 640.500km New Record
Steven Beetge 423.750km
Frik du Preez 409.500km
Roger Crichton 316.500km Walker
Adelle Govender 251.250km Walker.
72 Hour Race
Joey De Vos Louwrens 150.375km Walker.
24 Hour race
Lafras Heron 121.250km
Susan Kruger Blignaut 85.125km Walker.
Iona Redelinghuys 80.250km Walker.
12 Hour Race
Dawood Kruger 52.875km
Calvin Smith 50.625km
6 Hour race
Justin Sher 65.625km
Christopher Ferguson 55.125km
Leana Bredenhann 54.325km Course record
Arno Van Schalkwyk 45.750km
Grant Schuleman 45.000km
Eddie Dalbock 43.500km
Elmarie Hayes 41.250km
Ouma Marie van Dyk 33.750 Walker
Running Festival Wychwood next event 29th Dec. to 1st Jan. Details on the website.
Running Festival Circuits Facebook page.
Race website: www.wrightracetiming.co.za