Over the course of this training cycle so far, I have been BEYOND blessed to share a ton of my miles with some really amazing and inspiring friends whose company I truly enjoy.  When we run together, the time and the miles just click on by as we talk about anything and everything under the sun.  We encourage and support one another, we are real with one another, we laugh with one another, we listen to one another and we share whatever it is we feel like sharing.  And oftentimes, we just run silently side by side, to the rhythmic sound of our footsteps and our breath, taking in the beauty of the trail and appreciating that we are there and that we are together.
I cannot take the smile off my face just thinking about how lucky I am to have these guys in my life.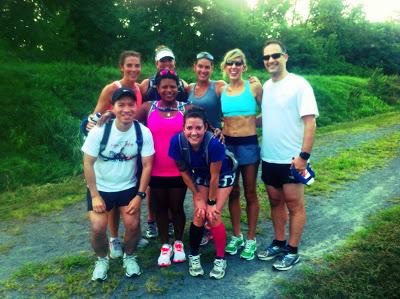 a pretty awesome crew of great peeps
Running buddies are the best buddies.  Even though our friendships were founded in a shared love for this sport, they transcend way beyond the trail because running isn't just something we do - it is truly a part of who we are.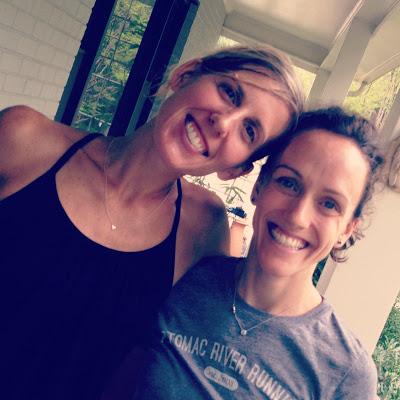 me and meghan - i never want our runs to end
My running friends have inspired me to believe in myself.  They've encouraged me and empowered me to be courageous at times when I have felt afraid.  They have reminded me of my priorities and of who I really am at moments when I have been smothered by self doubt or insecurity.  They have certainly seen me at my very worst on numerous occasions ... and they love me anyway just as I do them.  We lift one another up.  We care so much, so sincerely, about one another and all aspects of our lives not just our running.  This connection and bond is strong and steadfast and true.
I am certain that I would not only not be the runner I am today, but I would not be the person I am today, without them.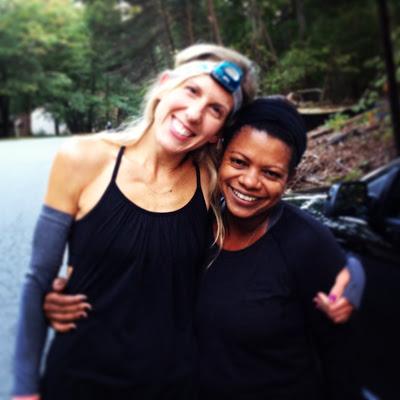 me and dora - to the moon and back
On Sunday morning I set out for my long run all by myself.  It was the first time I was running long all alone in a while.  A bunch of my friends (including my sister!) were all doing this amazing 22 mile run on the trail with our local running club, the Reston Runners.  It is this amazing annual run they call "The Airport Run" - the club gets two big yellow school buses and drives everyone from our town of Reston out to National Airport, 22 miles east from Reston.  The runners are dropped off there and then run home back to Reston on the trail!  It is really awesome - you feel like you're on a major adventure and it is great mental training too because you are running point-to-point and, well, you've gotta get home somehow!  It wasn't in the cards for me to join them this year because of logistics with my family and because I wasn't planning on 22 miles with my training schedule.  So instead I drove a little further east, parked my car and ran from Vienna towards them in hopes that I might catch them and at least give them hugs and high fives along the way.
Maybe it was the cool weather.  Maybe it was the fact that my legs appreciated the step back in miles I took earlier in the week.  Maybe it was the rest day the day before.  Maybe it was the fact that I was excited to be running in a less-visited part of my favorite trail and the change of scenery captured my spirit.  Maybe it was that I knew I was running towards my friends and sister and I was anticipating seeing them.  Whatever it was, it was amazing.  I felt like I was cruising, floating, and my pace was almost effortless.  Going into this run I had a little bit of concern that running long ALONE meant that I would run slower, because for my last few long runs I have been running with some incredible friends (who are also rockstar runners) and the runs have been so epic.  A handful of miles into this run though on Sunday and I knew there was nothing to worry about.  I needed to trust in myself. To listen to my body.  To let go of insecurity, be me, and listen to my heart.
At some point along the way out there, I think around mile 5ish, I came to the realization that it was highly unlikely I would see my sister and my buddies before I had to turn around.  I had this idea -
wouldn't it be so much fun if I had chalk and could leave them inspirational messages along the trail?!
  I was bummed I didn't think of it sooner!  But then I remembered that I would be passing a convenience store soon.  So I popped in and asked the clerk if he had a piece of chalk I could have.  He looked at me as though I had eight heads.  Um no.  I went outside to continue running and started chatting with some bikers who had passed me on the trail earlier.  They were so nice and they suggested I walk across the street to the drug store to see if they had chalk for me.  I went in and they had some but only for sale and of course I had no money on me.  The clerk there was an angel and offered to buy the chalk for me!  It was $1.30.  I was so grateful that my eyes filled with tears!  I took two pieces of the chalk and left the box for him to keep on hand in case any other crazy runner ladies rushed in to borrow chalk some day.  You never know, right!?
I got back on the trail and had so much fun with my messages.  Some of the ones I can remember:
FLOAT
JUST RUN
BREATHE & BELIEVE
HONEY BADGER STRONG
THB FO' EVA
IT'S ALWAYS A GOOD TIME
22 MILES?? MY FRIENDS ROCK!!
I felt like a little running chalk fairy leaving notes for my friends along the trail and I smiled so big thinking of what their reactions might be as they saw them on their 22 mile run home from the airport.  It made me really, really happy.
The feeling of strength and gratitude that I had didn't escape me the entire run.   About 18 miles in I developed a side stitch on my right side, most likely from not drinking enough -- genius me didn't bring water on this run and only stopped twice for some sips along the way.  I told myself I only had 2 miles to go though and muscled through it and the pain subsided.  It was good mental training for me to push through that.  My final miles were just as fast as my first and my average pace for the run was a 7:17.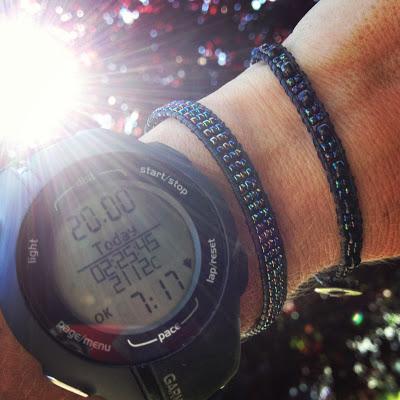 b e l i e v e
When I got back to my car I picked up my phone to tell my family I was on my way back and I noticed I had a message with a picture from my sister.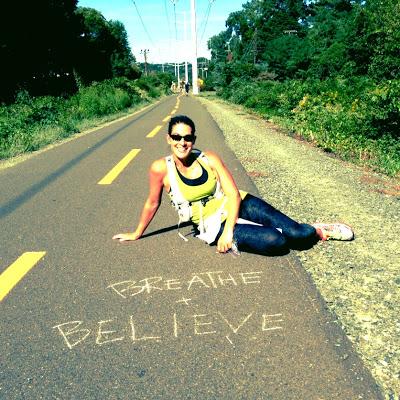 Breathe & Believe is my sister Jodi's mantra.  She has always told me that when I am suffering - whether it's on a run or through a rocky patch in my life outside of running - all I need to do is to remember to BREATHE and to BELIEVE.
Don't give up.
Keep it simple.
It will be okay.
Breathe
Believe
She said they saw my other messages and thought -
how cool
.  But when she came upon this one she knew it was me and her heart filled up and gave her wings.
I'm sitting here thinking, basking in the thought of, how amazing it is to have connections to people you love so much, who empower you and lift you up --- even when you aren't physically together.  Real friends and loved ones are life's truest treasures.  By loving them and by being loved by them, I am stronger and my heart is more full.
Here's to many more miles - and many more moments - spent with good friends and loved ones on the road ahead.