Well, this may look more like a rolled paper tree, but the intention was to make a shamrock so we will call it that for now!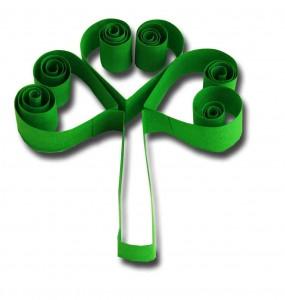 I think that the process of rolling the paper to make shapes is great fun. This is a simple little design that did not take much rolling so it is a good example of this paper craft for children to try.
Cut out some strips of paper, you will need three that are the same length and one that is a little shorter. Fold each of the three same length strips in half and then using a thin stick, something like a skewer or knitting needle, roll each end of the paper around it. Do not roll all the way to the fold, leave a little bit of the strip straight, also make sure to have the roll on each end of the paper face each other so that you end up with a heart shape.
Blob some glue onto some paper and arrange the rolled paper into a heart shape and put the three together like pictured. Then use the last shorter strip of paper to make a stalk.