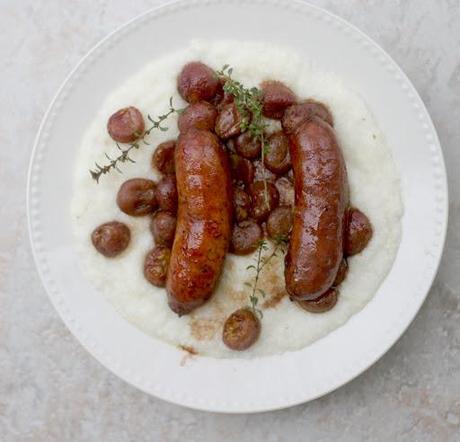 This is a classic Italian combination. Leave it to the Italians to combine the meat and the sweet. Sort of like prosciutto and melon. Yeah, that was their idea too.I have seen it with polenta. I love its southern cousin grits even better! I thought I would show my southern side and serve it on a pile of grits. I have made it with all kinds of sausage such as chicken or turkey. I am not a big fan of the hot italian sausage, but it will do in a pinch. My favorite is sweet Italian.I know it sounds like a very odd flavor combination but it works very well. The grapes release their juices and makes a very complex sauce. I never thought of roasting grapes. I now will try other grape combination now that I know how good they taste roasted.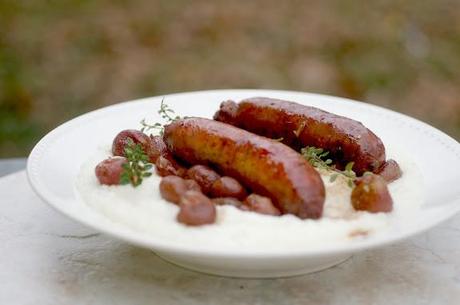 Print Recipe
Roasted Grapes and Sausage over Creamy Grits
Ingredients:
3 tablespoons olive oil
6 links of sausage such as Italian or hot
3 tablespoons olive oil
4-5 cups red seedless grapes stems removed
4 tablespoons red wine
3 tablespoons balsamic vinegar
grits
2/3 cup quik cooking grits
2 1/2 cups water
1 teaspoon kosher salt
1/2 cup milk
2 teaspoons butter
Directions:
Preheat oven to 350 degrees.
In a large skillet add the olive oil and sausage. Cook over medium heat. Brown the sausage on all sides for 10-15 minutes. Add the grapes and toss to coat. Over medium heat at the wine allow to reduce for 1-2 minutes.
Roast in the oven turning the sausages once until the grapes are soft and the sausage done, about 20-30 minutes.
Combine grits, water and salt in a medium saucepan. Bring to a boil. Reduce heat and allow to simmer for about 5 minutes. Add milk and butter. Cook another 1-2 minutes or until thick
To serve line the bottom of the bowl with grits and spoon the grapes and reduction over the top serve topped with sausage.
Peace be with you,
Veronica