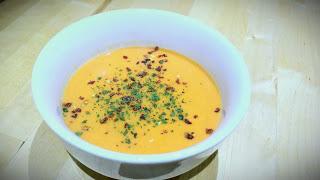 Ingredients
1 lb tomatoes, 1 can coconut milk, 1 onion, 2 cloves garlic, 2 sweet potatoes, coriander, chilli flakes, 1 orange, butter
Serves:
 6 
Preparation:
 1 hour
This soup was a sort of Frankenstein's monster, I'll be honest, but whilst the majority of time I plan to create a specific recipe - sometimes something evolves from a "bung it" and turns out to be spectacular! I've been all about pistachios this week and whilst roasting some tomatoes to make bruschetta with my pistachio pesto I had a glut of roast tomatoes left over and also some baked sweet potato so decided to make soup. To make the juicy tomatoes go further and add a silky feel to the thick sweet potato I combined it with coconut milk and then suddenly this scrumptious spicy warm Autumn soup emerged!

1) Add the tomatoes, whole, to a lidded ovenproof dish and roast at 200 degrees for 25 minutes. This keeps every bit of that luscious tomato juice and has a completely different flavor from just boiling the tomatoes in stock. Bake the sweet potatoes in their skins for the same amount of time.

2) Peel and slice the onion and sautee in a little butter. When the onions are soft, add the garlic cloves, crushed, then take off the heat before they begin to brown.



3) 

Add the onions and garlic to a food processor along with the tomatoes - juice and all - and blend thoroughly. Pass through a sieve and back into the pan, then peel and blitz the sweet potato and add the smooth puree to the concentrated tomato flavoured juice in the pan.



4)

 Add the coconut milk, season and taste. At this point I added the juice and zest of an orange but depending on the variety of tomato you use, your soup may not need this additional tang. It's a judgment call! Simmer for a further 20 minutes.



5) 

Serve with crushed chilli flakes and chopped coriander.