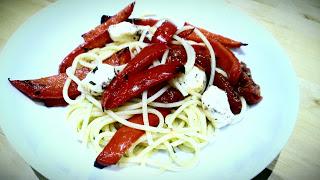 Ingredients
Linguine, mozzarella pearls, basil, parsley, olive oil, plum tomatoes, red bell peppers, 1 garlic clove.



Preparation:

 25 minutes, plus marinating time
I can understand the concept of convenience food - opening up a jar of something and tossing it with some pasta, but shop-bought sauces make my soul and tastebuds wither away to nothing. I quite often make pesto or pasta sauces ahead of time to keep in the fridge, ready for a quick meal - and this luscious concoction of marinated peppers and tomatoes makes a wonderful quick supper.
1) Slice the top from the bell peppers, remove the core and seeds and slice between the membranes. Cut each pepper quarter in half.
2) Slice the tomatoes into quarters and remove the seeds. Roast the tomatoes and peppers in the top of the oven for 20 minutes until the skin begins to blacken. 
3) Add to a bowl with the olive oil, mozarella pearls, crushed garlic, parsley and herbs and leave to marinate for at least 1 hour but ideally overnight.
4)

Toss with cooked liguine and serve