Rock'n'Roll races are my favorite. I've only done 1 half marathon that was not an RnR event, so I was super excited when I found out they were going to be in one of my favorite cities. Lots of people were there, especially bloggers, so you'll probably be reading a lot of race reviews. I think you're going to get a different perspective from everyone because, this being Savannah's first RnR, there were a couple of hiccups. Depending on one's patience, understanding and affinity for the city will probably help shape what they thought of the race and how it was put together.
Crowd - 


Let me start of by saying that when I saw that the race had sold out in August with 23,000 participants, I was a little nervous. Savannah is small. It's smaller than Charleston, which itself is small. The historic district is a little bubble, similar to New Orleans French Quarters, but on a much smaller scale. I've been to RnR's before, have seen the crowd, but they've all been in bigger cities that are used to having thousands of people. I also knew that this was Savannah's first big race, so again, my expectations were managed. 23k people in Savannah is A LOT. I mean, A LOT.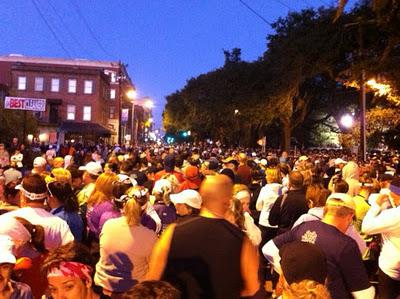 This was corral 19-20. So, at least 18 corrals were before us and I dont' know how many were behind us, but I think, at least 5-10 more. The streets were covered with people. Crowded. 
Honestly, for the amount of people that were there, I felt like it was fairly well organized, minus the expo fiasco that I will discuss in a minute. We started on time, and the corrals were moving up pretty quickly. The streets were crowded but I never felt trapped into the speed I was running, I could easily speed up or slow down at any point, and since we were running a 2/1, we were doing that a lot. Again, RnR has a pretty good system in place for making races run smoothly day of, Savannah was no exception. 
Expo - 
Here's where there was trouble. Savannah has an expo center across the river that's on it's own little island. It's obviously worked out well for them before, so they probably haven't had a lot of complaints. The major issue this weekend was that most runners probably couldn't get there until 3-4 pm, and they all tried to get on the ferry at the same time. The line to the ferry was wrapped around the riverfront and it seemed like we were never going to get to the expo. My fear was that we wouldn't make it in time to get our numbers and our race t-shirts. Obviously, they knew this was happening, so they made adjustments and opened up one of the dinner boats. That boat fit 600 people and I promise, that's how many people were on it. They took us across and we made it to the expo with 1 hour to spare. So, I got in line at 4:15 and arrived at the expo at 6 pm. 
Getting into the expo wasn't a big deal and getting my number was easy too. They had plenty of personnel and of course, lines went quickly. The expo itself was fairly crowded and annoying at times, but that's how every expo is at every big race I've ever done. I just know going into a big race, the expo is going to be wild. But I got a couple of cute shirts and found a yoga place in Savannah, so it was worth it!
Lastly, when leaving the expo, they had trolleys lined up outside waiting on us. We sat on the trolley for a good 30 minutes. I think they knew the masses were getting restless because they had a police escort clear the way and we got back to the historic district by 8 pm. So, it took 3 hours and 45 minutes to get to the expo, look around and get back. 
I am sure they will have an answer next year, I'm not sure what it will be. 
Race Course - 
I kind of struggle with this. I LOVE Savannah. It's one of my favorite places ever. It is so beautiful and I really can't think of another city that even mirrors anything like Savannah. Maybe Charleston, but I still like Savannah more. The architecture is beautiful, the huge oak trees with Spanish Moss and the artistic influence from Savannah College of Art and Design. I was HOPING the race course would primarily be in the historic district but sadly it wasn't. Actually, the first part of the course was going through a bad section of town. The thing that I thought when running through that area was how I felt bad for the people living there. There were people picking up the throw away clothes runners had thrown to the side. I just felt like there was so much more going on than the stupid race and I really wanted to just go up and hug all of the people on the street. That being said, they were all out there, in their yards, cheering us on, screaming, yelling out numbers and names and had such great attitudes and personalities! That was the best cheering section during the whole race. People were high fiving and they had 2 cheerleading squads that were so fun! So, obviously, my judgment on where they live was misguided as they seemed to be very happy and supportive people. 
It was pretty cool but it started to warm up the further we ran. At no point was I hot, so I obviously dressed appropriately! There were water/cytomax stations every couple of miles and  a Gu station between 8-9. I brought swedish fish with me which seem to be my favorite fuel right now. They're just more fun to eat. 
We finally ran through the historic district which was quick but beautiful and then headed to the rich side of town. The crowd was no where near as fun and supportive, although the trees/houses were beautiful. We ended running into Forsyth Park where they had lots of food and a concert.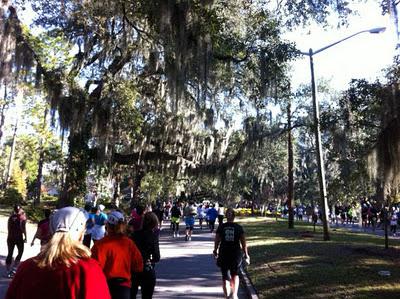 this was the nicer area, and I wanted to take a pic of the trees. They are so beautiful and this is what the streets look like everywhere!



Music - 

A couple of the bands were awesome, a couple of them were weak. I was wondering what kind of musical theme Savannah would offer, and there wasn't one really. I liked the bands on mile 3, 7 and 10 but haven't had a chance to go back and see who they are. Honestly, my fav part were the cheerleaders. And the spectators giving high 5's. that was my fav part. seriously. 
Mom - 
I had a really good time running with mom. This was her first half marathon and she is 54!!! Her goal was 2:45 and her official time was 2:45:02. She told me she struggled, especially at the end, but she seemed strong to me the whole time. We ran 2 minutes, walked 1 minuted and averaged at 12:38 pace. She was sore afterwards, but had no major injuries. Her hamstring has still be bothering her, but I would say, after your first half, to have one small nagging injury isn't half bad. She only yelled at me once, and that was at the end when I told her to pick up some speed. She did great and I had a really fun time running with her.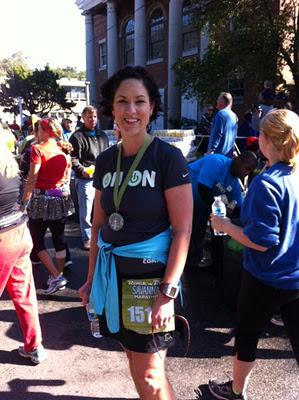 me, post race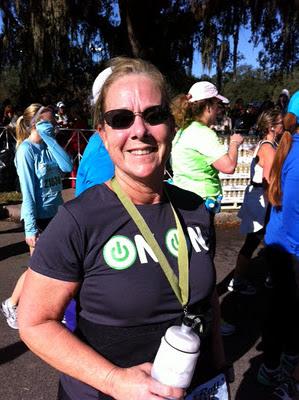 mom, post race, with her water bottle
All in all, I had a really good time. I would definitely do this again and hopefully, next year, they'll solve some technical issues. I'll probably also come a little earlier.