Yet another new release from Rimmel that is really hitting the mark with me…
The ScandalEyes range from Rimmel is doing some great work at the moment. Even though I am not a fan of the original mascara, my friend loves it and always wears it. I however really like the Waterproof kohl liners but it's this new chunky eyeshadow crayon which has really impressed me lately.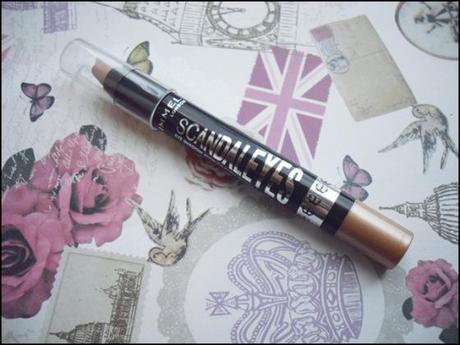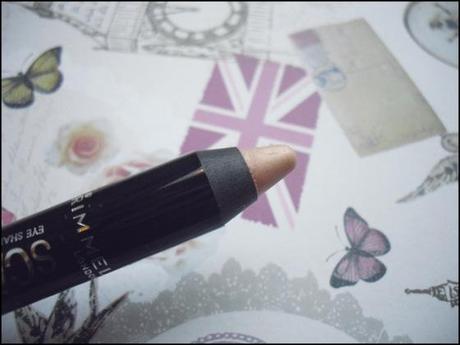 Lots of brands are now moving into the eyeshadow crayon craze such as Clinique and Barry M and good on Rimmel for creating something that definitely rivals the more high end versions out there.
The Eyeshadow Sticks claim to be waterproof and to last all day. The shade I have is  002 Bulletproof Beige which is a delightful champagne/bronze nude color with lots of shimmer. It is definitely not a matte pencil. The formula is really creamy and soft but with a toughness that allows you to color in your eyelid easily without it squashing. It is a great size for covering the whole lid but can be used on the lashline and under the eyes just as easily.
You can blend it well too, especially with fingers as your natural body temperature warms up the product making it easier to move. I find the product works better on a naked lid; no primer, no base shadow, no nothing. Once applied it leaves a glossy texture (must be the shimmer) and adds a little interest to a nude eye. This shade is perfect is you don't like to wear much eyeshadow on a daily basis.
There are also more vibrant colours like purple and blue too if you fancy something more adventurous. I have had no problems with the staying power of these either. The lasted all day on me without creasing and even withstood a shower!
I love the packaging, I love the shades and I am loving Rimmel at the moment. They are where it's at right now…
Available from Boots, Superdrug and supermarkets. Priced £5.99.