If we are honest, we would all probably like longer, fuller lashes. That's the main reason that mascara is such big business, but products that promise to visibly change your lashes have generally been reserved for the high end market.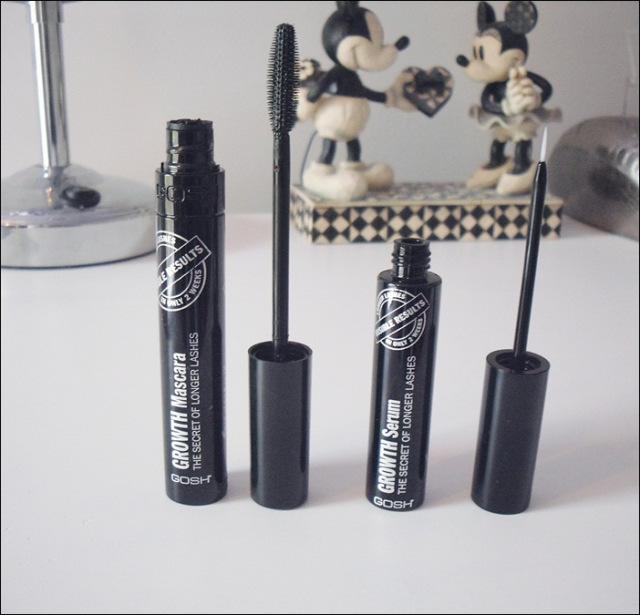 Elizabeth Arden and RevitaLash being the main culprits, but not everyone has £100 to spend on an eyelash serum. But, thanks to GOSH, the high street is getting in on the action with their new Growth Serum. Along with their Growth Mascara, these product promise to visibly lengthen your lashes in just 2 weeks. Bold claims…
I have been using these products for around a month now, so I can give you an honest opinion.  I will admit, I was skeptical.  When they arrived I had already decided in my head that they probably wouldn't do anything for my lashes. Overall, my lashes are in pretty good shape; they are fairly long, reasonably thick and not too sparse so I didn't think much could be done with them.
I began with the serum. Both products contain an active ingredient called SymPeptide® XLash, which has been proven to to thicken and lengthen the lashes while accompanying ingredient, Follicisan, promotes hair growth and increases the percentage of hairs. Each night, just paint a light layer of the product along the roots of your lashes. You can't feel anything happening but after a few weeks, my lashes definitely felt softer and I wasn't losing as many, so they must have become stronger. Usually, while removing my eye make-up, I lose quite a few eyelashes whereas now it is hardly any. 
Coupled with this I used the Growth mascara. As you  know, I am a huge fan of GOSH mascaras and this one was more of a grower (excuse the term!) than an instant hit. The first time I used it I didn't like it. But after a couple more attempts I changed my mind and now I use it every day. The brush is rubber, quite long and shaped so that you can use both sides for different things. The small rubber teeth separate the lashes and the bulk reservoir on the side will ensure more bulk and volume. I think this makes the lashes look incredibly long and black. I have noticed though that it begins to break down and look less polished as the day goes on, so maybe layer this with another, more long-wearing mascara.
Overall, I have enjoyed using this combo. My lashes are in a much healthier condition and they do appear slightly longer in places. Now, I am not saying this will transform your lashes dramatically. It won't. I think it will help to condition them so that they naturally grow better and therefore, longer. The thickness of them hasn't changed but I really enjoyed the ritual of applying the serum at night. But I do believe to see any real changes, you need to use both products as used alone I doubt they would be as effective.
Should you by them? It is up to you. Those with relatively good eyelashes like me may see more of a benefit than those with very short, brittle lashes as I am unsure how it would work for you. If you are considering a higher end eyelash serum, I would definitely recommend you try this one first to see how you go.
All in all, lovely products with some noticeable results. Not life changing, but worth giving a go (plus they are 3 for 2 at the moment!).
Available from Superdrug stores and online. Growth Serum priced £14.99. Growth Mascara priced £8.49.
PR Samples