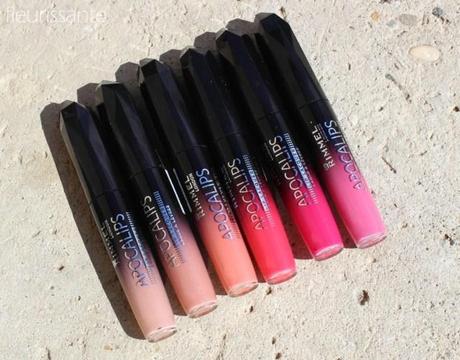 Hello lovelies,
today I'm going to talk about Rimmel Apocalips liquid lipstick range. This post will feature the shades I don't really like (mostly because they don't suit my complexion).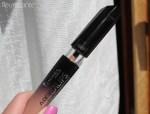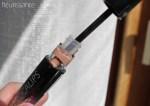 The lipstick comes in a semi-transparent bottle; the lower part is transparent and shows the gloss, while the upper part is black. I really like the container, primarily because it is made in a way which allows you to see if the lipstick has been opened. The opening of the container is transparent too and once you pull out the wand, the lipstick pools there.
The doe foot applicator is not the softest, but it picks up enough lipstick. The lipstick is scented and, while some might find the scent unpleasing, I don't mind it.
Here are the swatches of six shades I have: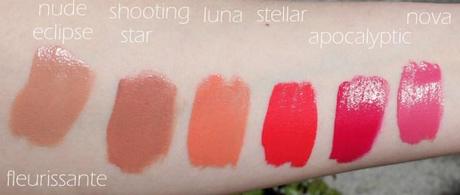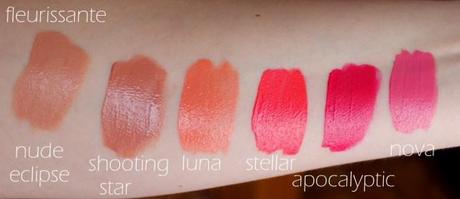 The three shades reviewed here are very pigmented and they perfectly cover my natural lip color. The lip lacquer picks the best of both worlds – it has the pigmentation of a lipstick and creaminess and glossiness of a lipgloss. It is not tacky at all. The wear is good, in my opinion – up to two hours; however I don't like that when it starts to wear off it actually flakes off. I need to completely remove it to reapply it.
In spite of disliking these shades, I like this lip lacquer and I think this will be my go to lip product for summer. I'm not a fan of a lipgloss – they are often too sticky and lipsticks melt in heat so Apocaliptic is the perfect solution.
Let's see the swatches:
Nude Eclipse is a very beige, skin toned nude. I am very fair (NC15-20) and this one, once applied on the lips, looks very similar to my skin tone, giving me corpse-like look. This shade looks slightly patchy and uneven if I don not apply it carefully.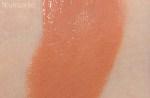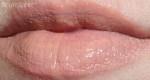 —
Shooting Star is slightly darker and peachier than Nude Eclipse, but still too light for my skin. I plan to mix these two shades with brighter lipsticks to tone them down.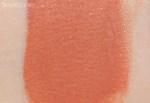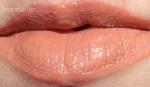 —
Luna is a peachy orange which clashes with my skintone.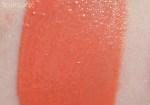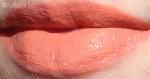 xoxo Tamara

Filed under: lipgloss, lipstick, make-up, review, Rimmel, swatch Tagged: apocalips, beauty, lipgloss, lipstick, makeup, rimmel, rimmel apocalips