So all thanks to a photo challenge I entered on Instagram, I ended up doing my first Celebrity Inspired Makeup Tutorial! Lol!
I entered a contest on Instagram, hosted by The Makeup Show, and the picture-a-day for Monday was "Fave Grammy Look" I have to say I really think Rihanna stole the show! Her look was simple but powerful, natural but still bright. I

loved

everything about it and she rocked it!!
Everyone was dying to know...what did she have on her lips?! M.A.C- Lip liner (Cherry) M.A.C-Lipstick (Ruby Woo) M.A.C-Lipstick (Lady Danger) Funny story...When I decided to do this look, I had Cherry & Ruby Woo already in my hand! Lol! But after looking closer, I realized her lips were brighter. Ruby Woo is very blue & I knew I needed something more yellow. I ended up using M.A.C lip liner in the shade

Redd

because it's more yellow & Revlon's

"Fire & Ice"

lipstick which is also a bright yellow red. I topped it off with a teeny drop of OCC's Lip Tar in

Harlot

to mattify it down a bit.
As for my hair, I had blown it out earlier in the day and right before I recorded my tutorial, I used my 1 1/2" barrel curling iron to get her big waves. My layers aren't as long as hers are here so it came out a little different but I set the curls with CHI hair spray.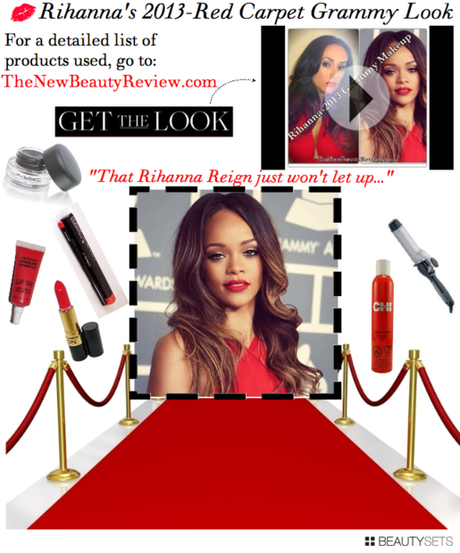 Rihanna's 2013 Red Carpet Grammy look


Products Used:

*FACE*

Girlactik-Skin Tint Moisturizer (F3)

Givenchy- Mister Light

Kevyn Aucoin-The Ethereal Pressed Powder (EP03)

NYX-Matte Bronzer (light)

Lancome-Color Design Blush (Creme Couture)

The Body Shop-Blush (Matte Peach)

*EYES*

bh Cosmetics-Eye/Lip Primer

M.A.C e/s-Malt

M.A.C e/s-Quarry

M.A.C e/s-Haux

M.A.C e/s-Phloof!

M.A.C-Fluidline (Blacktrack)

M.A.C e/s-Carbon

Benefit-They're Real Mascara (black)

Whisp Lashes

DUO lash glue (clear)

*LIPS*

M.A.C-Lip liner (Redd)

Revlon-Lipstick (Fire & Ice)

OCC-Lip tar (Harlot)

I had so much fun recreating this look! Let me know what you think!

Keep it Prettie!

*Stephanie*