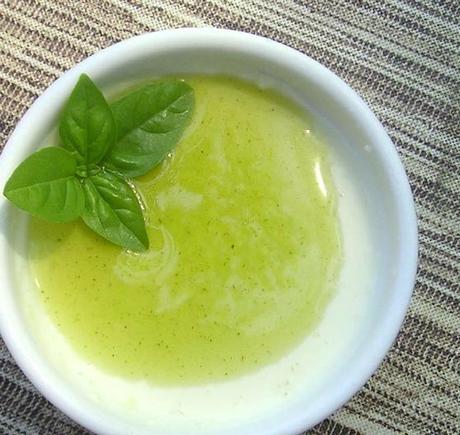 I developed this light but creamy panna cotta using a basil syrup in my head while staring at a huge pot of basil that I seriously needed to start using and wanted to use it for more than just a garnish in a savory dish or a pesto. That was over a year ago.
Somewhere in the deep crevices of my strange but weirdly working brain during my obsession with savory cheesecakes phase, a imagined a sauce of basil-oil combined with citrus, spooned into the slight depression that forms on most cheesecakes and it just made the dish.
When the gals at the Recipe Redux choose the use of herbs in a non-traditional way as our March challenge, I immediately remembered that thought of making a sweet syrup with basil.
For those of us who have never use gelatin (me me me), it may seem like a scary, so much could go wrong like soufflé type technique need not worry at all. Honestly, when I was finally ready to pop these babies in the fridge, I looked down and said out loud (of course to the cats) "that's it, I'm done?" It was so easy, I was ashamed I have never made a panna cotta before. The perfect dessert for a hot summer night, and after eating one with the syrup, the perfect way to surprise family and guests with a taste they probably would never have thought. Plus, it's just the prettiest shade of green on that white pudding.
While most cotta's are unmolded onto a plate, I choose to leave them in the ramekins and eat them like you would pots de creme. So, the next time you have end of the season basil begging to be used, think about trying this syrup, if not with a panna cotta, how about a cheesecake.
Ricotta Panna Cotta with Basil-Lemon Syrup
makes 4 servings
Panna Cotta:
* 1/2 cup fat-free half and half
* 10 ounces fat-free condensed milk
* 1 tablespoons Truvia (it works great in cooking)
* 1 teaspoon vanilla extract
* 2/3 cup low fat ricotta cheese
* 1 1/4 teaspoon gelatin (I used Knox)
 Basil Lemon Syrup:
* 1/2 cup raw honey
* 1/4 cup lemon juice
* 1 packed cup fresh basil leaves
Equipment:
* 4 (3/4 cup) ramekins
* Blender or processor
* Fine mesh sieve or cheesecloth
1. Mix gelatin with 2 tablespoons milk. Let stand until gelatin softens, about 10 minutes. Lightly spray ramekins with nonstick spray.
2. Heat half and half, remaining milk and Truvia. Add gelatin mixture and cook until it dissolves. Remove from the heat, add ricotta and vanilla and stir to incorporate. Pour evenly into ramekins, cover and place in the refrigerator until mixture is set, about 4 hours and up to 2 days.
3. While panna cotta cools, place the honey, lemon juice and basil into the bowl of a processor and pulse until the basil is finely chopped. Strain the mixture through the sieve or cheesecloth.
Serve with 1 tablespoon syrup. Can unmold or serve in the ramekin.