Well hello!! I've been gone for a REALLY long time, and it's nice to be back to blogging! It's been about three weeks now! Those of you who read my blog will know I went out on a date with a guy, well...he's now my boyfriend! I met him and we clicked instantly and basically the past few weeks I've just been hanging out with him having an awesome time and not spending any time online!
I'm back now and I've managed to get my hands on some of the new Revlon Colourburst Lip Butters which basically everybody has been raving about. I found it hard to get hold of them, as they sold out in Manchester Boots straight away and the Superdrug only had shades I'd never wear like bright hot pink (I love buying products but I won't buy them just to say I have one!). They're on 3 for 2 so I have three shades: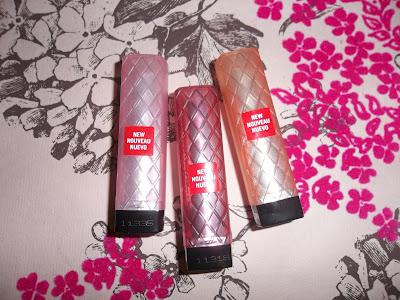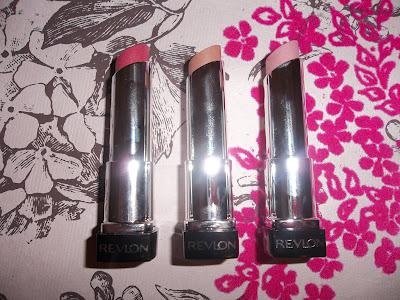 L-R Berry Smoothie, Creme Brulee, Sugar Frosting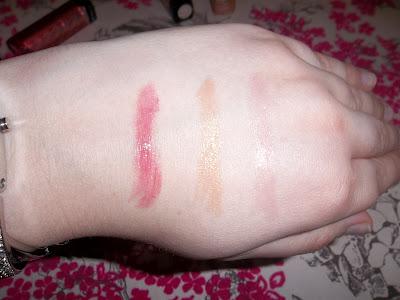 Swatches of the above L-R
I haven't taken any photos of them on my lips as honestly there's not that much color pay off for me - my lips are highly pigmented as they are and they don't show up much. Berry Smoothie is my favorite as it does give a light blush color effect on my lips. I would say that I like them all anyway because they're SO soft, and I suffer from dry and cracked lips so wearing lipsticks usually doesn't work for me. I'd say they were in the same vein as the Boots 17 Sheer moisture lipstick, so gives you a hint of color with a lot of shine. They don't taste of anything; they smell a little bit sugary and sweet which is nice though. Would I say they're worth all the hype? Personally not really - they're nice but not a new concept. I'm glad I have some though as I can say I have tried them (so basically I've contradicted myself on what i said earlier, oops!)
What do you guys think, did you rush out to get them?
I'm glad to be back! xoxo