These high-shine sheer lipsticks have taken the U.S. by storm, I can't wait for Revlon to add more shades to the range as seasons pass.  I wholeheartedly confess, I took the very last one of the most popular shade, Peach Parfait, from Watson's in Megamall Building A, the salesgirl said they're selling out like crazy.  I got four of these, one is for Mom and three are for me.  Hi, Mama.  When I say first look, I mean first look on this blog.  Next post coming with swatches and me wearing these!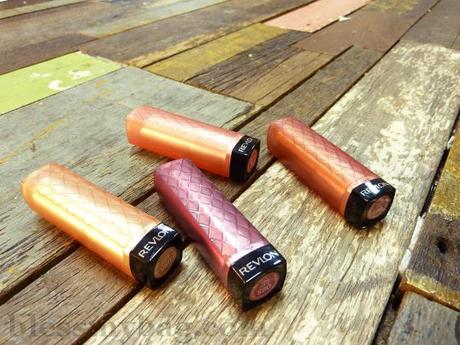 FROM LEFT: Creme Brulee | Peach Parfait (back) | Sugar Plum | Pink Truffle
Cute aren't they?  I got so excited I even showed our driver, Clyde, and said that they looked like candies, he laughed.  I didn't get any of the brighter shades because I've got lots of bright colors already in my professional kit and brights don't really always flatter my big lips.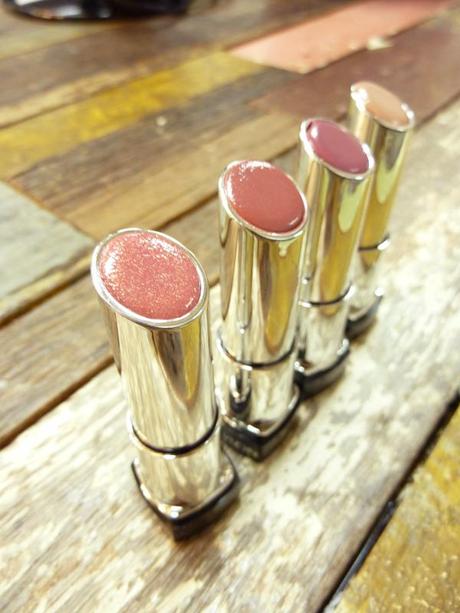 FROM LEFT: Peach Parfait | Pink Truffle | Sugar Plum | Creme Brulee
These retail for *drumroll* *cymbals* Php525.00, yes, a bit hefty, but considering how far they've come, how they wear, and the numerous raves these have gotten from the beauty blogosphere I think they're worth it.  I already know exactly what these remind me of but I'll make that comparison in the next post.  They're available at select beauty halls in SM Department stores and Watson's outlets that carry Revlon products.  For now if you'd like to see my FAVORITE video review of these Revlon Lip butters, watch Jen of FrmHeadToToe say what she has to say.  Keep your eyes peeled for the next post!