Howdy again Guys!
:-hThis is yet another review coinciding with mycurrent trial team work for Spolit.Cheersto Tammerly aka Pink Diva, who on behalf of Spoilt kindly sent me this productto trial and review.This is myexperience with the Revitanail Ridge Filler.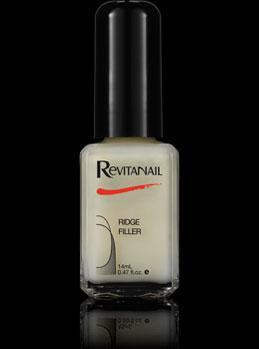 This product is like a foundation for my nails that prepsthem prior to polishing by filling in any flaws, like ridges and rough patchesto level out the nail surface to achieve a smooth and uniform canvas.
By promoting polish adhesion, it allows nailpolish to apply evenly, while enhancing the staying power.By enveloping my nail with this protectivelayer staining of the nail is prevented, one of the few setbacks whenconstantly rocking a punchy bold or bright nail color.Infused with beneficial conditioningingredients such as Essential Oils, Vitamins and Calcium, along with nourishingPearl Powder, all integrated to provide supplementary nail care; it'sultimately a clever multi-tasking nail product.
*-:)
It brandishes the usual, stylish Revitanail packaging, representingupmarket quality, with an appropriate price tag to match;  :-S  however, in thiscase, it's no more costly than similar, high-end brands, if not slightlycheaper.#:-S  But, how does it compare withthe likes of those common, very popular, top-shelf nail labels?:-/  Well, in my opinion, it's on par, so I believeit's actually better value for money.
<:-P
Housed in a glass bottle, featuring a good-sized brushattached to a screw-on lid, the formula itself looks white and opaque, but whenapplied to the nail, it's completely transparent.The consistency is exactly as I prefer, notto thick and gloopy, yet not too thin and runny, instead, it's perfectlytextured, therefore it's easy to spread from nail to tip.Most importantly, it dries rapidly, whichimpresses me the most, as I tend to get impatient at the best of times whenwaiting for nail polish to dry.Thebiggest downside of this product, which is not at all different to an averagenail polish anyway, is the strong chemical scent.  :-&  Fortunately, it's not headache inducing, butstill quite potent all the same, especially as I'm occasionally affected byfragrance sensitivity, so I was relieved when it disappeared just as fast as itdried.B-)  Like all Revitanail lacquersthough, it's void of three of the most toxic, potentially harmful chemicals,Formaldehyde, Toluene and Dibutyl Phthalate (DBP).My nails don't suffer too badly of ridges,hence the need to use only one coat in lieu of my normal base, although two coatsmay be necessary for those who have notably deeper ridges.I have taken to often using it alone, withoutpolish, as I'm partial to the effect it creates, prominently adorning mynatural nails with a beautiful, well-groomed appearance.:x Even after I remove my manicure, it'sappeasing to reveal that my nails are not dried out any further! This, Isuspect, is due to the remarkably hydrating ingredients and the fact that it isBig-3-free, minus the likes of Formaldehyde that has been extremely damaging tomy nails in the past.  :-O  ;)Overall, I am thrilled with the performance of the Revitanail Ridge Filler for prolonging the life of my manicure when used to prime mynails.=D>  Not only does it bond the enamel betterto my nail, it helps my manicures withstand the daily abuse my hands aresubject to (
during a typical day in the life of a stay-at-home mum
) bydelivering greater longevity that keeps my polish looking flawless longer.I'm positive it's effectually safeguarding mynails against staining as well, because they no longer bear any unsightlydiscolouration or yellowing associated with frequent nail polish use, so itdoes its job reliably in that respect too.I can also vouch that it strengthens my nails upon application, makingthem feel much harder than normal.I'mnot sure if strengthening is one of it's claims, but it's definitely a bonus,which I personally appreciate, considering my nails are not in the best shapeATM,  :">  brittle and prone to peeling and breaking, thus the extra fortifyingsupport sustains even greater durability.
\:D/
  I wouldn't hesitate in using this product on a regular basis, either asa base coat to erase imperfections before a manicure, or on its own, when Iwish to adopt an elegantly smooth, polished finish to my natural nails, withoutneeding to rely on buffing.I wouldcertainly recommend and suggest it to anyone who is serious about DIYmanicures, because it's the perfect investment for those wanting salon-worthyresults from the comfort and convenience of your own home.I am awarding it with 4.5 out of 5 stars,(*)  (*)  (*)  (*)  1/2(*)  only losing a half star because of the unpleasant fragrance. :P
How are you nails?  Do you think a ridge filler would be something that would be of use for you?  Do you use a base coat prior to applying color nail polish?  What is your favourite, please share?  :)
Image in this post is generic.