Hi Guys!: -hThisreview coincides with my current trial team work for Spolit.A big shout out to Tammerly aka Pink Diva,who on behalf of Spoilt, kindly sent me this product to trial and review.This post is a reflection on my experience with the Revitanail Nourishing Oil.  :)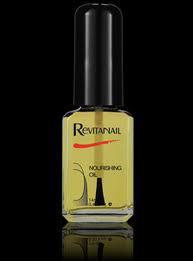 This high quality revitalising cuticle treatment oilcontains a blend of botanicals, antioxidants, multi-vitamins, nourishing oilsand UV filters to condition and protect the cuticles, whilst assisting in themaintenance of optimal nail health.Itcomes in the signature, classy packaging that I have come to expect fromRevitanail, presenting a 14ml glass bottle with a screw-on lid attached with anapplicator brush, exactly like a regular nail polish.The incredibly lightweight oil has a thinfluid-like consistency that boasts a mild floral, herbal-based aroma that isrefreshingly crisp and a formulation that is ultra soothing, without beinggreasy.It appears a translucent yellowcolour in the bottle but goes on crystal clear and absorbs rapidly,transforming the skin surrounding the nail instantly, so it feels soft andmoisturised, less any sticky residue and I love how shiny and smooth it makesmy nails look.:x  The brush applicator cansometimes transfer too much oil, but to avoid wastage, I wipe the brush well onthe inside of the bottle to remove any excess then aim to apply just a smalldot on each nail, which is sufficient to glide over my nails with ease,permitting for even distribution.  ;)
This cuticle treatment oil is ideal to keep handy forfrequent use, which I try to apply whenever I remember; lately it's averagingtwice daily.I simply paint each nailwith a small quantity of this luxurious oil and then relax as I spend somequality 'ME' time massaging it gently into each nail, cuticle and thesurrounding skin.:D  The directions suggestthat you continue massaging for one minute, leaving me confused as to weather thatmeans one minute per nail or one minute all up? :-/  Either way, I am confident that by the time I indulgein my mini nail pampering session, (i.e. finished massaging) that adequate timewould have past.#:-S  In terms of being costeffective, I consider this product to be reasonably priced, conceding it isenriched with a line-up of superior nurturing ingredients such as Vitamins Aand E and the cocktail of oils, more prominently Sweet Almond, Jojoba andApricot Oils to stimulate total rejuvenation and promote active nailgrowth.;;)
I am rather smitten with the Revitanail Nourishing Oil and consideredit veritably worthwhile in conditioning my recently shunned nails.\:D/ It has worked to revamp my dry, ragged,dishpan hands into a more presentable appearance, prompting better hydrationand softer cuticles, whilst providing my natural nails with a polished finishand a gorgeous, external sheen to epitomise a more healthy-looking nail platein general.Because I unfortunately letmy nails go of late (

due to my own laziness

) they were quite neglected,  :">  butsince I've been religiously using this oil to aide in the repair of my damagednail beds, the new growth, emerging below my existing weak, brittle nail tips, isevidently beginning to gain strength.=D>  Over time, I am hoping it will continue to help my nails grow throughlonger, stronger and more flexible, with fewer symptoms, like peeling andsplitting.It is very promising,although at this stage, due to a short trial period, I am rating it with 4stars out of 5,  (*) (*)  (*)  (*) but time will tell if I successfully procure the results I am after,in which case perhaps, I could award it with an extra star!  ;)
Do you use a cuticle oil and do you find them to be a necessary step in your nail care routine?  How do you keep your cuticles in tip-top shape?  :-?  Have you tried any Revitanail products yet, if so share your experience in the comments below :) 


Image in this post is generic.