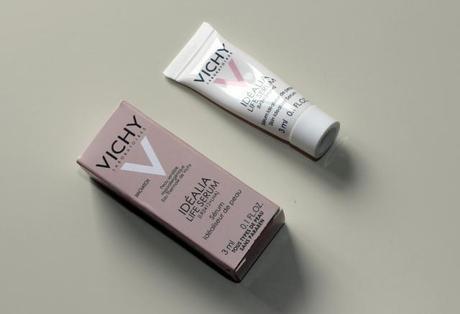 Vichy was the brand which introduced me to a higher-end (from my perspective) skincare. Sadly, this introduction didn't go well – I've learned that water can break you out and other creams didn't leave me impressed.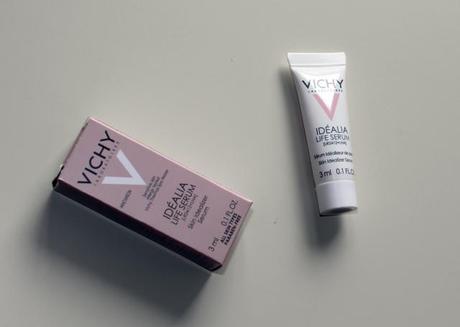 Idealia Life Serum fixed my first impressions to an extent. This serum boasts with "the formula helps transform the appearance of skin quality, affected by our environment and regular excesses: fatigue, stress, overexposure to the sun, pollution, cigarette smoke or an unbalanced diet. Instantly, complexion looks radiant and fresh, with a more even tone. Pores appear tightened and skin texture feels refined." Quite big promises for a serum. My skin is oily but dehydrated which flakes off with super large pores.
I need to say that I used four sample tubes – each containing 3 ml, rounding up to a total of 12 ml which is over 1/3 of the full sized serum. The full size retails for gbp 29,95.
The serum is pretty thick for a serum. I'm used to very runny, almost watery-like serums so I was pretty surprised once I say that this is almost of a cream-like consistency. It has a mild scent – nothing offensive – which disappears quickly upon application. It is very lightweight and it spreads easily – a little will go a long way.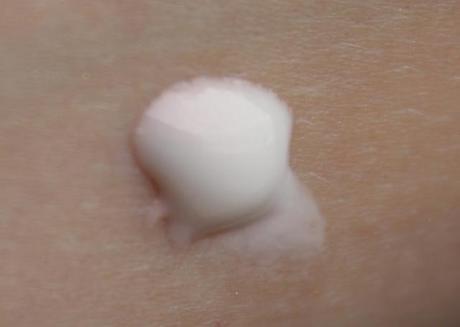 The serum contains pearlescent particles – I tried to take a photo, but they didn't translate well. This is something I don't like as it is a clear indicator that any sort of radiance in the skin is not a permanent effect – your skin will be radiant only if you apply the serum. Once you remove it, your skin is back to its dullness. The concentration of the pearlescent pigments is smaller than their concentration in Estee Lauder's Spotlight, which was so infused with pigments that it could work as a highlighter.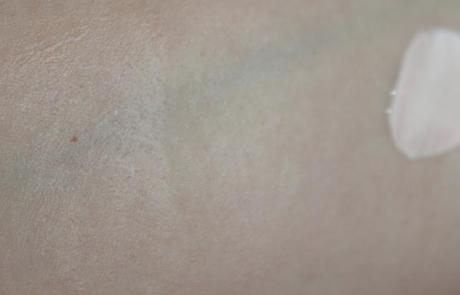 (left – blended into the skin; right – not blended)
On my skin, this serum didn't really deliver. I can't say it is a bad product – it certainly didn't cause me more trouble – but my skin didn't look noticeably healthier. My pores were the same as they'd been before. If there was any change, it was so minor that I couldn't notice it.
I need to add several more pluses – the serum absorbed quickly and it worked fine instead of the primer under the makeup. Combined with Sisley's Hydra Global, it sufficiently moisturized my skin.
Ingredients: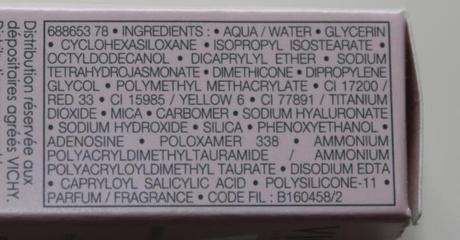 Overall, I won't repurchase it. This is too much of a make-up than a skincare item for me. At this price, I have several other options which would work better.
xoxo Tamara